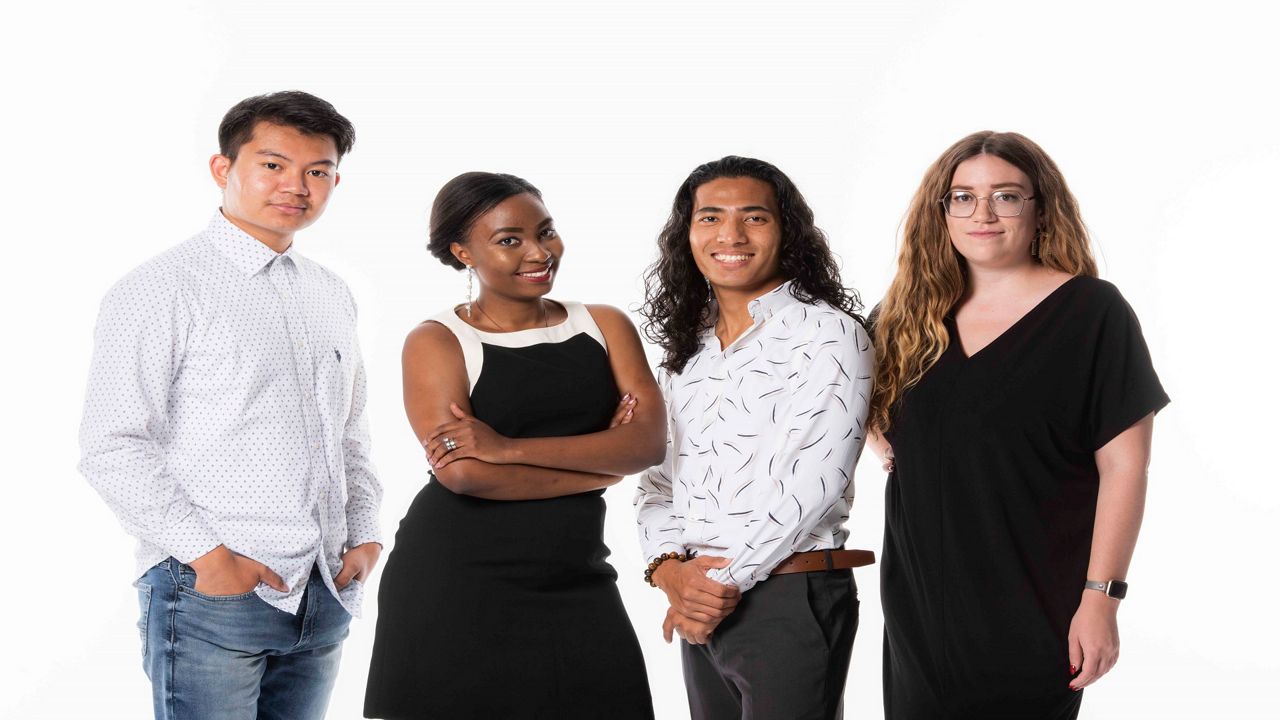 Akron's Gum-Dip Play Features 'Culture Brokers'
AKRON, Ohio — The language barrier is one of the biggest challenges immigrants and refugees face in a new country. Customs, religions and cultures are often very different, but the language barrier becomes more stressful with the onset of illness or when accidents occur.
This is where cultural brokers come in. It is usually young immigrants who take the lead, serving as communicators for families and friends, sometimes speaking on behalf of their entire community.
To illustrate the role of the cultural broker, Akron's Gum-Dip Theater will present "Brokers Without Bordersa new play featuring a multi-ethnic ensemble of former refugees.
"Courters Without Borders" takes place at Balch Street Theater, 220 S. Balch St in Akron. Performances take place over two weekends: November 12-14 and November 19-21. Friday and Saturday performances will be at 7 p.m. and Sunday at 2 p.m. Tickets can be purchased online for $15or at the door at an à la carte rate.
Masks are required for members of the public, and the theater will be set up for social distancing, said Katie Beck, an actress who co-founded the Gum-Dip Theater with actor Neema Bal.
"Brokers Without Borders" is part of a multi-year project that aims to build a coalition through original performances with immigrants, Beck said. After each performance, a short creative response process will take place, during which audience members and artists will dialogue about the work.
In "Brokers Without Borders," actors from the Bhutanese, Karen and Congolese communities will describe their roles as brokers in different scenarios, she said, showing how they serve as connectors linking community members to the people and resources whose they need to lead a healthy and productive life in a new country.
The play includes monologues and dances revealing the actors' personal experiences — from the challenge of navigating a whole new world to the joy of finding success in a global community, Beck said. The actors learned lines in each other's language to portray additional characters.
Part of what makes these performances interesting is how different cultural brokerage is for each individual, Beck said.
One of the actors, 24-year-old Samantha Byake, came to the United States from Congo with her parents and eight siblings in 2019. Byake's optimistic outlook informs her role as a broker, she said.
"He's a multi-tasker," Byake said. "Every obstacle that comes your way, you find a way to use it as a stepping stone, then ask the person on the other end to walk through and get what they want."
With a bachelor's degree in psychology, Byake continued her training in nursing and worked for Summa Health System. Her Congolese community has relied heavily on her strong communication skills since her arrival, she said.
"My community uses me more than even the way my family uses me," she said. "Even at night I sometimes get calls saying they need help."
Serving as a broker can be physically and emotionally taxing, she said.
"Being a broker is not easy because you don't have your personal space," she said. "You don't have your personal time, like the time that will allow me to rest. But I don't want when someone else is in need. And you have to take care of it. This is one of the challenges.
Byake is brave by nature and wants to pass on her courage to others, she said, because brokerage can be very stressful at times.
"The most dangerous thing is to stand up and face people in power. I am a community advocate. I am a refugee advocate," she said. "So especially when I need to confront people in power, especially when their rights are being violated. I have to stand up and face these people for these voices that are violated.
There have been times, Byake said, when she's had to calm someone down, even when she's unsure of a positive result.
"You have to come out and give them a hand and pull them, and say, 'It's gonna be okay,'" she said. "So it's getting on a string, because you're not sure. It's just a matter of belief that you have that "OK, I think I can save this person."
But seeing someone feel relieved after standing up for themselves is, she says, the greatest reward.
"Helping someone is love," Byake said. "Like when a person is in a lot of pain and they have no hope. And you come and show them how it's going to be okay. It's better to see the person smile.
Helping restore someone's rights by integrating people from both communities is another of Byake's favorite things about brokerage, she said.
"They don't speak the language and the others don't speak their language," she said. "You stand in between and make sure their hands are all together by being the middle. That's a big factor, integration.
The Gum-Dip Theater was named as a nod to Akron's rubber industry and exemplifies the city's immigrant community, Beck said. Gum dipping is a process used in tire manufacturing in which coils are dipped in rubber gum to strengthen the adhesive.
"It's meant to be a metaphor for building community, like this adhesive," Beck said.
Prior to the pandemic, the Gum-Dip Theater had presented shows in conjunction with the Akron International Institutemainly with actors from the Nepalese community of Akron.
The theater then began presenting multicultural performances to spotlight historically excluded voices, until the pandemic darkened the theater, Beck said.
"Brokers Without Borders" will once again bring together actors and audiences from different cultural backgrounds. For more information visit Balch Street's Center for Applied Theater and Active Culture website.