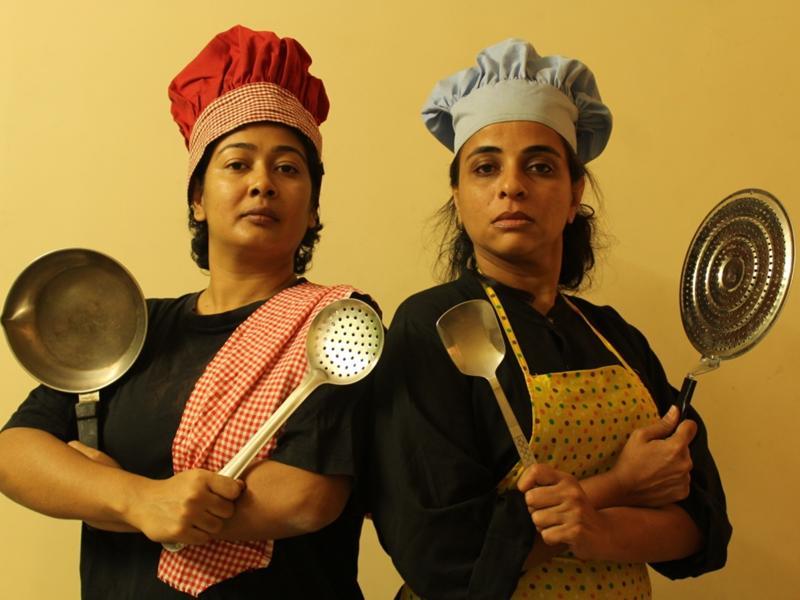 An Object Theater Play Discusses Inclusiveness and Social Order
The stage is set up like a roadside dhaba. Plastic tables and chairs are set out in front, and in the back is a marble counter that houses a kitchen. Something is unusual, however – the space is populated with eggplants and only serves eggplant dishes. The vegetable has a complete monopoly of the restaurant, and even controls the social order of the dhaba: the eggplants are classified into sections according to their size and color.
One day, the eggplants wake up to a bag lying on the counter. Inside are round, brown, dusty things – potatoes. The new vegetable is slowly penetrating the existing social order of the dhaba, paving the way for more vegetables to enter and settle.
This is the premise of Dhaaba, a play by object theater practitioner Choiti Ghosh (36). Simply put, object theater refers to theater made with everyday objects, without attributing human form or attributes to them.
Read more: The Versova studio turns into a museum of ordinary objects
Ghosh came up with the idea for Dhaaba in 2012, while she was busy in her kitchen. "I was carving when the concept of a vegetable-based play first came to me," she says. Four years later, she translated the idea into a play. It will premiere at the National Center for the Performing Arts (NCPA) annual theater festival, Centerstage.
Despite the unusual premise, the story deals with the creation of a multicultural, multi-ethnic society – how foreign cultures enter an existing society and momentarily disrupt the social order. And although they cause initial friction, thanks to the fear of being unfamiliar, over time they are absorbed into society.
Read more: Pratibimb: The best of Marathi theatre, under one roof
To further explore this confluence of cultures, Ghosh spent three years researching the history of vegetables, in order to narrow down his choices for the piece. For example, Ghosh says the most fascinating vegetable is the onion because its origin cannot be traced to any particular region of the world. "Onions seem to have arisen simultaneously across the world. They do not have a specific area of ​​origin. The tomato comes from Latin America. But onions don't have a cultural identity," says Ghosh.
The timing of Dhaaba's premiere is eerie to say the least, as the debate over racial equality heats up around the world. Still, Ghosh insists the piece makes no political statements. "The play is not moralizing. It's open to interpretation, and I hope to have a one-on-one discussion at the end of the performance," she says.
Dhaaba will be staged on November 26 at 8 p.m.
At Godrej Dance Theatre, NCPA, Nariman Point
Call 6622 3724
Tickets: Rs 250 on bookmyshow.com/plays