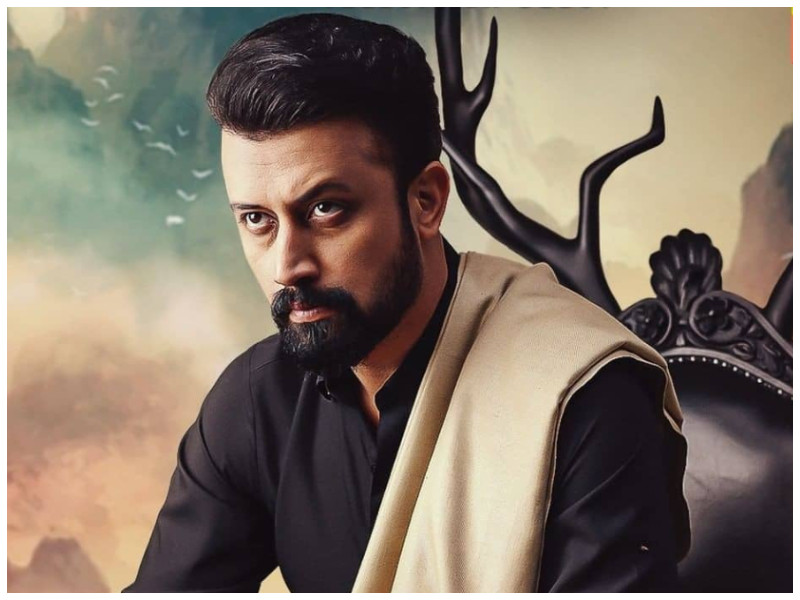 Atif Aslam waited 17 years for the "perfect script"
What could be defined as a perfect formula for a successful drama series? For many, it might just be a well-written script, a talented director, a brilliant crew, and a stellar cast. But for some, it's a non-essential subject, a seasoned director, and a debut that would become the talk of the town.
With Sang-e-Mah, the creators played it safe and managed to emerge victorious.
On Friday, the cast and crew of the long-awaited drama hit the red carpet at Nueplex Cinemas in Karachi for the premiere of their upcoming show. While brilliant actors such as Kubra Khan, Hania Aamir, debutant Zaviyar Naumaan, director Saifee Hassan interacted with fans and media onsite, the wait for Atif Aslam continued.
The commotion at the entrance served as a signal to enter the Doori crooner, huddled by his security and several PR people. Out of the corner of your eye, you could see a glimpse of the money passing through the crowd. Dressed in a metallic jacket, paired with a black shirt, pants and sunglasses covering half of his face, Atif hit the red carpet.
The atmosphere in the room changed as everyone fought tooth and nail to catch a glimpse of their favorite star. Atif briefly answered questions posed by media at the scene before being rushed inside the cinema with his co-star, Kubra.
As the episode begins, the usually soft-spoken Atif has transformed into a cunning-looking antagonist. Hilmand is nothing like the idol adored by millions of fans and stepping into his character was no easy task. The actor, while talking about his role in the press conference after the premiere, explained why he decided to sign Sang-e-Mah for his acting debut.
Nail the slip
Atif, who has received several offers to launch his acting career, revealed that director Saifee seemed like the project he was waiting for. "What really clicked for me was that it was new territory for me. I had never done that [acting] before," he told the audience. "I know it sounds very cliché, that you've been waiting for the right script. I waited and 17 years later, Sang-e-Mah seemed like the perfect script for me. I wanted to do it."
Crediting his busy schedule, committing to shoot dramas was a Herculean task as opposed to his daily gigs. However, the actor seemed to have pulled it off with flying colors. "It was difficult for me," added the singer. "We performed globally. We interacted with people, with fans and then we came back [to our lives]. But for 40 days, we were shooting Sang-e-Mah, that too in a village. I was very curious how the show was going to go. But the confidence that Saifee and Mustafa had in the script was enough to convince me. I read it and immediately accepted.
He then praised the cast while sharing his newfound respect for on-screen performers. "I would like to appreciate anyone who works in films, dramas – whatever the medium. I have so much respect for them. It's hard work," he remarked.
The Blessing in Disguise
Atif went on to comment that he always believed he was blessed from above. "I have a deep belief that even in my 17-year career in music, I haven't really done much, but there's this divine power that paved the way for me. I've been tremendously blessed," he said, adding, "Even today when I would be working on screen and people were praising me for it, I have the same belief that the Almighty has been very kind with me.
Hilmand – the black sheep
Atif went into more detail about how he managed to nail the demanding character, Hilmand, to the show. Hilmand, the eldest son of Mir Marjaan Khan [Naumaan Ijaz] and Zarsanga [Samiya Mumtaz], is the black sheep of the family. Unlike his younger brother, Hikmat [Zaviyar], Hilmand is the rebellious brother, who confronts his father. The Pehli Nazar singer opened up about how difficult it was for him to try out Hilmand during the early days of filming.
"For the first three or four days, I was trying to figure out how to play this character," Atif commented. "Then I started talking to myself. There were two people traveling with me. I kept rehearsing with them. It was not easy to memorize the dialogues that Mustafa had written. I kept rehearsing with the 'one of them and then the other person was responsible for the look,' he added, adding, 'There were no mobile signals in the area where we were filming, so we literally had nothing. something else to do. It was a blessing in disguise.
The singer then commented that even after he finished filming Sang-e-Mah, he was having a hard time parting ways with Hilmand. "He stayed with me. Hilmand has long resided in me.
'Why not?'
Contrary to the norm, Atif's acting debut doesn't see him as a knight in shining armor. Hilmad is dark, witty, and somewhat witty. Talking about why he chose to take on an unconventional role, Atif shared, "Why not?" The actor further responded to The Express Tribune, "You watch 'living room' soap operas on a daily basis. But if we think outside the box, we're experimental. I absolutely loved the whole approach to the script. It's so well written. It really grabs you. I had no knowledge of acting that's why I give everyone due credit.
He further clarified, "When I read the script, it had potential. That's why I signed it. Asked about his inspiration behind reading his recent offering, the singer shared, "Inspiration? I think unlearning Atif Aslam is a task in itself. That's what I really enjoyed. I talked to people, I talked to the whole team. I worked with different artists, with veterans. Imagine that Naumaan Ijaz stands in front of you and you know that he is a class A actor and that you are a beginner. Imagine the pressure it would have. This is no joke at all. It was a challenge and I like challenges.
Do you have something to add to the story? Share it in the comments below.