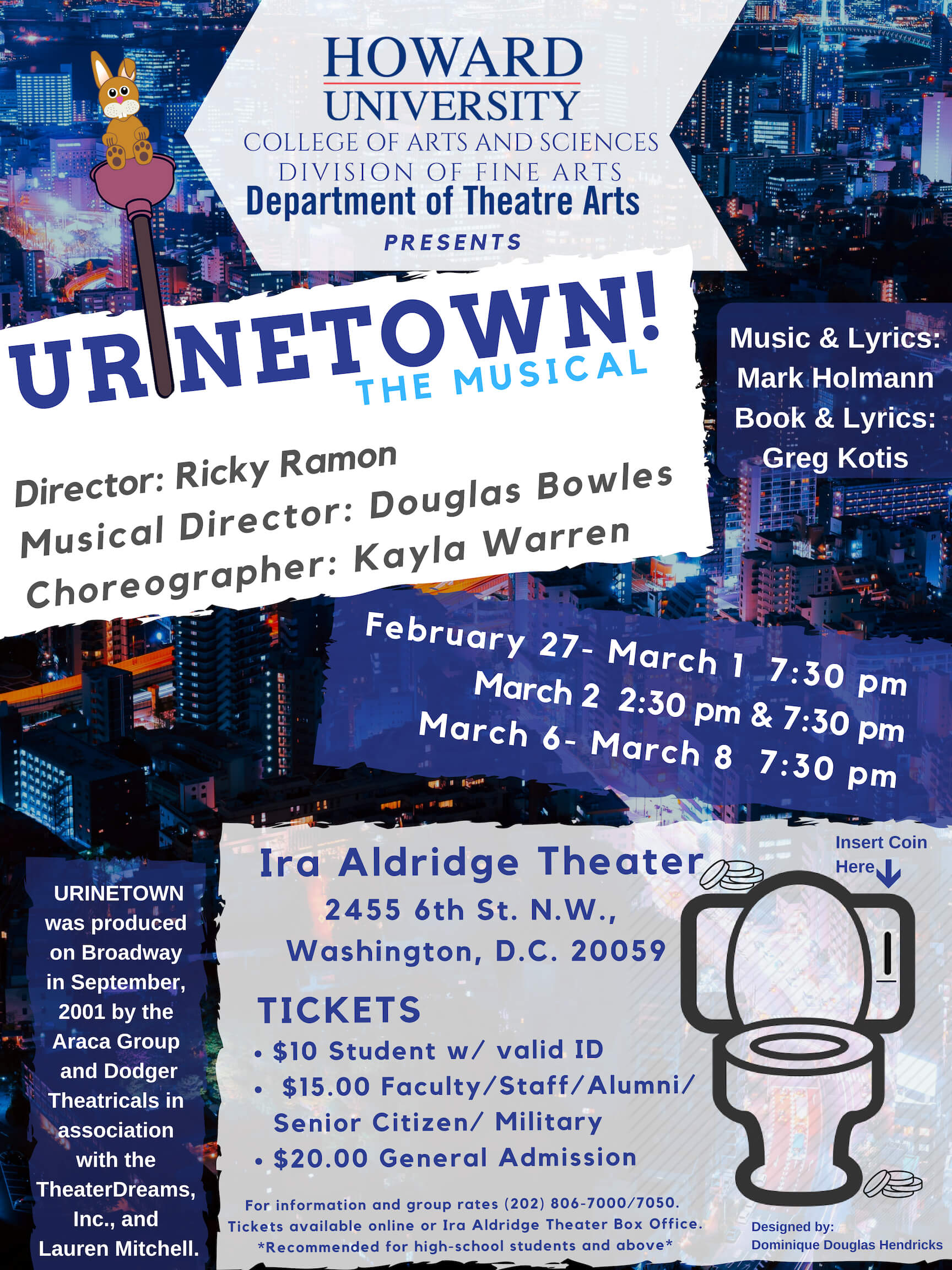 Department of Theater Arts Announces Spring 2019 Production of Urinetown, The Musical
WASHINGTON (February 22, 2019) – The Howard University Department of Theater Arts is proud to present Urinetown: The Musicalfrom February 27 to March 8, at the Ira Aldridge Theatre, 2445 6th Street Northwest.
The Department of Theater's interpretation of Urineville, a musical satire that pokes fun at the legal, social and corporate system, is the first to feature an all-African-American cast. The production premiered in 2001 and tackles themes such as greed, oppression, rebellion and the power of love.
"This is an exciting time for our musical theater program as our students learn what it takes to succeed in the professional world of theatre," Ricky Ramón, Lecturer in Theater in the Department of Theater Arts.
Director Ricky Ramon stages this musical full of banter and mockery. Musical direction by Douglas Bowles will take your breath away, while Kayla Warren's choreography will be both fun and entertaining. The design team consists of set designer Michael Stepowany, lighting designer Benny Gomes, costume designer Andrea Washington-Brown, prop designer GV Love, and Kornerstone Productions, led by Del Sterling, will handle all sound elements. .
The following representations of Urinevilleare scheduled from February 27 to March 8:
February 27, 7:30 p.m.
February 28, 7:30 p.m.
March 1, 7:30 p.m.
March 2, 2:30 p.m.
March 2, 7:30 p.m.
March 6, 7:30 p.m.
March 7, 7:30 p.m.
March 8, 7:30 p.m.
Tickets: $10.00 student with valid ID, $15.00 faculty/staff/alumni/senior/military; $20.00 General Admission
Groups: Discounted rates are available for groups of 10 or more, contact Dominique Douglas Hendricks at 202/806-7050
Contact: Dominique Douglas Hendricks, Theater Director/ Producer 202.806.7050 / [email protected]
###
About the Department of Theater Arts
The Department of Theater Arts is committed to producing competent theater and dance artists, theorists, historians and teachers of theater and dance arts. The Department is dedicated to the principle of developing the highest quality of the arts of theater and dance, and to the serious investigation and perpetuation of the experiences and aesthetics of black theater and dance. For more information, visit http://theatrearts.coas.howard.edu.
About Howard University
Founded in 1867, Howard University is a private research university comprised of 13 schools and colleges. Students pursue studies in more than 120 fields leading to undergraduate, graduate and professional degrees. The University operates with a commitment to excellence in truth and service and has produced four Rhodes Scholars, 11 Truman Scholars, two Marshall Scholars, one Schwarzman Scholars, over 70 Fulbright Scholars, and 22 Pickering Scholars. Howard is also producing more African-American doctorates on campus. recipients than any other university in the United States. For more information on visiting Howard University www.howard.edu.