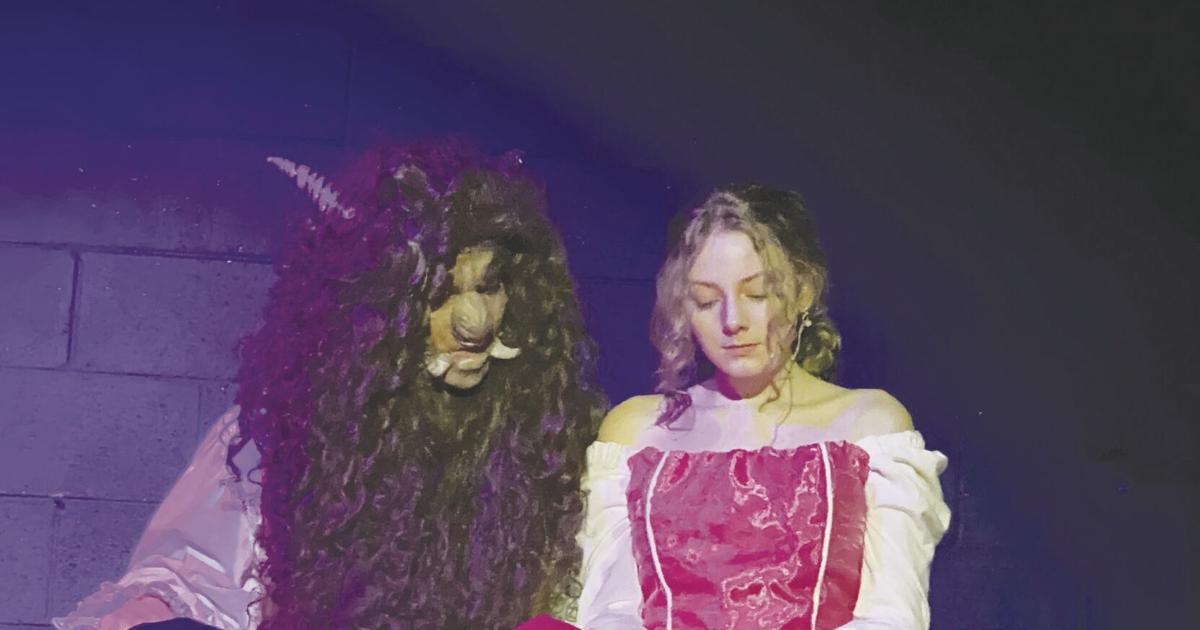 ELHS Theater Arts Program will present Disney's 'Beauty and the Beast' | Culture & Leisure
LINCOLNTON — It was like Christmas on Monday night as members of the East Lincoln Theater Arts Program tried on the costumes Gregory Franklin, the director of choral music and theater arts, picked up earlier in the day for their upcoming production of " Beauty and the Beast". ." The costumes are magical, one-of-a-kind and many were far too elaborate to be built by the students just for this production, so Franklin hired them through Eastern Costume in Salisbury. That's not to say the sets aren't amazing because they are. Audiences are sure to be wowed by the Disney magic that is "Beauty and the Beast."
"Beauty and the Beast" tells the story of Belle, a beautiful and intelligent young woman who feels out of place in her provincial French village. When her father is imprisoned in a mysterious castle, Belle's attempt to save him leads to his capture by the Beast, a gruesome and fearsome monster, who has long been trapped in his horrific form by an enchantress. The only way for the Beast to become human again is to learn to love and be loved back. There is a deadline. Once a magic rose loses all its petals, all hope will be lost and it will remain a beast forever. The Beast's enchanted house, Mrs. Potts, Lumiere, Cogsworth, and Chip watch anxiously as Belle and the Beast grow to understand and befriend each other. Their feelings grow deeper and deeper as the clock ticks and the petals continue to fall from the enchanted rose.
One of the most elaborate costumes is that of Lumière played by Pierson Rickard.
"Lumière is a goofy character," he said. "He's more of a comedic character than all the others. I love his character and it really pushed me.
Ty Yandle plays the conceited Gaston. Gaston's ultimate goal is to get married and make his estate the prettiest girl in town who just happens to be Belle (played by Ava Watters).
"Gaston is a really arrogant guy," Yandle said with a chuckle. "It's an easy role for me, I don't really play. It's the first role I wanted and I'm glad I got it. It's a lot more singing than I'm used to.
Arturo Galarza Chavez plays the Beast.
"I'm really excited for this role," he said. "Being here as the Beast brings out a lot of emotions. I haven't watched Broadway, but the Disney movie was one of my favorites growing up.
The character of Mrs. Potts was one of Rachel Ochoa's favorites in film. Mrs. Potts is a teakettle which is a bit of a tricky costume to maneuver, but Ochoa wields it gracefully.
"I really wanted this role," she said. "Mrs. Potts sings my favorite song, 'Tale as Old as Time'. I always liked that she was a mother figure. My mother is not in my life and therefore Mrs. Potts is someone I wanted feel and be.
A senior at East Lincoln High School, Ochoa plans to major in theater arts in college.
Ava Watters really wanted the role of Belle.
"Belle has always been my favorite princess," she said. "I love everything about her. There are a lot of quick costume changes that are a little difficult.
This is the biggest production and probably the most ambitious, according to Franklin.
"We've had a lot of kids come out this year," he said. "We have 40 kids in the cast and 10 kids in the crew. We are very pleased to have a growing technology program. They run the whole show, not just as actors. They built all the sets. This is the first semester that we have a technology and design course. I've had kids who just work on design, construction, and crafts for our shows. Coming out of COVID, we're trying to make sure we have audience favorite shows that are light and fun. The kids begged to make this one. It's one of those shows where you just have to bite the bullet and give it a shot.
Cast and crew members include
Beautiful – Ava Watters
The Beast – Arturo Galarza Chavez
Gaston – Ty Yandle
LeFou – Parker Zapata
Mauritius – Ben Converti
Babette – Hanna Butler
Cogsworth – Maggie McCrostie
Light – Pierson Rickard
Mrs. Potts – Rachel Ochoa
Chip Marissa – Feingold
Lady of the Big Mouth – Joniya Kee
Monsieur D'Arque – Sam Rabon
Silly Girls (6) Carah Elkins, Lesly Cortes, Lea Phommabouth, Dayan Ruiz, Laysha Faulkenberry, Kamari Kee
Old Beggar / Enchantress – Lily Hovis
Beast Body Double / Crony 6 Chris Poe
Hatter/ Gaston Crony 3 Matthew Weller
The Fishman/Gaston Crony 4 Fardi Luna Gonzalez
Shepherdess Prudence Kostic
Eggman/Gaston Crony 5 Maxwell Gonzalez
Baker/Gaston Crony 1 Dylynn Nichols
Marie (baker's wife) Rylie Moates
Bookseller/ Gaston Crony 2 Marqui Sanders
Aristocratic Lady Ayanna Drake
Sausage Curl Girl Aeris Phelan
Baby Lady Addison Yandle
Salt and pepper shakers Emnma Thomson, Taylor Thomson
The village/castle choir includes enchanted objects, dancing utensils, plates, napkins, etc. Lillian Allen, Ella Allen, Spencer Ballard, Bella Darby, Abbey Justice, Hailey Sanders, Cassidy Williams, Reagan Wray
Stage Manager – Michaela Drum
Stage Manager – Ashleigh Henning
Lights – Catherine Fazlulahi
Sound – Caleb Diffley, Camilla Aranda
Team – Kacey Crosby, Sophia D'Alessio, Megan Helms, Emily Roberson, Katelynne Summers
Disney's "Beauty and the Beast" premieres at the East Lincoln Black Box Theater on February 24, 25, 26 and March 3, 4 and 5 at 7 p.m., February 27 and March 2 and 3 at 2 p.m. Adults 15 $ – K-12 students $10. Buy your tickets online at eastlincolnonstage.org/tickets. Tickets can be purchased at the door subject to availability.