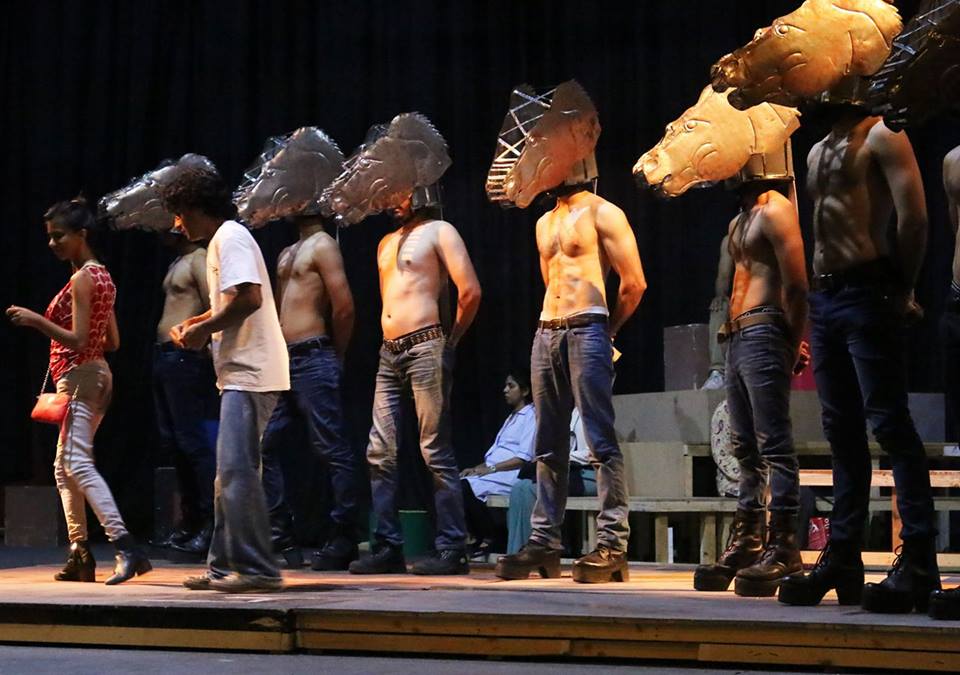 'Equus' is an intense meditation on the relationship between man and God
Tampering with religious ideas is always a risk in a conservative society like Pakistan. Sunil Shankar took that risk by adapting Peter Shaffer's 1973 play Equus and received rave reviews for it. Five years later he's done it again and while obviously credit goes to the original author, credit goes to Shankar that he can deliberate and deliver such ideas in a dignified and provocative way.
Equus revolves around a psychiatrist, Dr. Martin Dysart (played by Nazarul Hasan) who attempts to treat a 17-year-old boy, Alan Strang (Ali Junejo), who has blinded six horses. As Dysart begins to understand the boy's religious obsession with horses, he questions his own beliefs and struggles between personal and societal values.
Sunil Shankar Brings Peter Schaffer's 'Equus' Back to Stage After Five Years
The first thing you notice in the performance is that Junejo got it wrong in her teenage role. And while that's no knock on his acting prowess, he obviously didn't have the naivety of a teenager. His performance was intense enough to hook you and keep you with him throughout the story, especially in the more dramatic scenes where his memories come to life. Yet throughout the piece he oozed a certain emotional stiffness that slightly detracted from the performance.
But do not get me wrong. The coin always delivers what it wants. Hasan as a psychiatrist is brilliant. His consistency is what made him an emerging star, and it's exactly what will get him there. He never disappoints or lets his guard down. The supporting cast is also strong and should also be commended, especially Saad Fareedi and Meher Jaffri who actually help elevate Hasan and Junejo's performances. And the movement and timing of the rhythms of the horses on stage, played by human actors (sorry, not real horses), were off, they must be appreciated for wearing the huge horse mask and maintaining their balance for almost three hours.
"Equus": saving the best for last
Equus has Shankar's fingerprints all over it. This is something that can only be done so well under his direction. The art direction is phenomenal. Very few aural cues are heard in the performance, but they were timed well and served their purpose in changing the mood and enticing the audience – reality to fantasy to reality. Even if it must be said that the whole room continues to switch between the two.
At one point, we are engaged in the story, and at the next, we wonder about a dialogue that has been spoken. Equus is all about that conversation with yourself – a dialogue about man's fascination with the idea of ​​God, his moments of confusion when he's displeased with himself, and his supposed omniscience. It also triggers an existential dilemma and the idea that what is normal for society and for oneself may or may not coincide.
In all, Equus is a little too long but it is something that will make you discover interesting ideas. A gentle reminder when watching the play would be to do so with an open mind and be prepared to be provoked. The length may discourage you, but persevere until the end and you will come away with a rich experience. It might not be Shankar's best work, but he certainly delivers that rush you get after leaving a roller coaster ride.