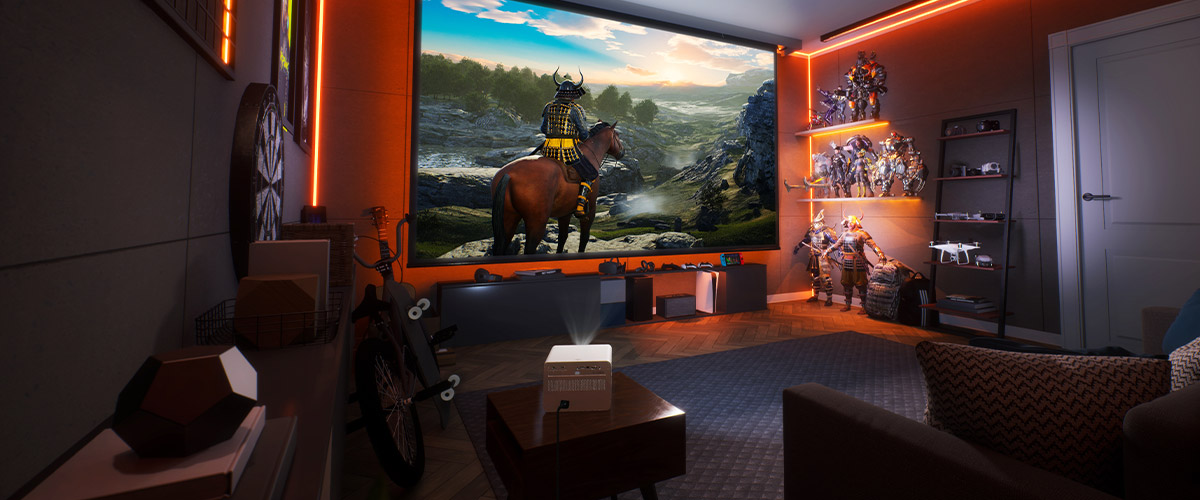 Explore open-world games on any screen size with the BenQ X3000i 4LED 4K HDR Gaming Projector
Why limit yourself to one size TV or monitor when you can play games on a virtual 150-inch screen instead? That's what the BenQ X3000i 4LED 4K HDR Gaming Projector Offers – 4K high-definition (3840 x 2160 resolution) projected display with 3000 lumens of brightness that allows you to truly immerse yourself in any open-world environment, making it the perfect centerpiece to complete your setup dream playroom.
The X3000i is an upgrade over its predecessor, the already impressive TK700STi, and offers 100% DCI-P3 color gamut, so colors seen will be vivid and accurate, with clear visuals viewers can enjoy. even in relatively bright environments.
This brightness is further complemented by a 4 LED light source, which offers an additional blue "pump" LED to complement the red, blue and green of more traditional lamps, providing better color vibrancy throughout life. of use. This provides the ability to game or stream video with the lights on or in the middle of the day with no problem and since the unit provides up to 30,000 hours of service without needing a replacement, you can enjoy your favorite content as much as you want.
What defines the BenQ X3000i as a gaming projector is the multitude of gaming-focused features that produce the best color tones and intensities. On the one hand, the combination of HDR10, HLG and Dynamic Black means that most titles will appear in striking color at high contrast, with detail visible even in dark areas, regardless of the projected screen size. you are looking for.
The X3000i is capable of resolutions up to 4K (3840 x 2160) at 60Hz and 16ms latency, providing an excellent display for most open-world games. But for faster response times, say in a first-person shooter, its 1920 x 1080 resolution settings can support 120Hz and 8ms gameplay for game consoles, and gameplay of 240 Hz and 4 ms on PC platforms. The Fast Mode feature also ensures the lowest latency at all times, allowing for greater fluidity and enjoyment.
Speaking of console gaming, the projector offers two HDMI 2.0B ports that support PlayStation 4 and 5, Xbox Series X|S, and Nintendo Switch. For PC users, the ports can also be used to connect to your home theater system. Put the two together and you get an immersive big-screen experience, regardless of genre.
Where RPG mode enhances cinematic visuals with movie-worthy detail and color, as well as deep bass music, FPS mode is able to highlight ambient sounds of footsteps and gunfire. Dark environments will no longer be a problem, with the detail adjustment applying a special gamma to reveal the level of detail in blacks. For sports enthusiasts, SPG mode promises varied skin tones, realistic green grass and vibrant uniforms, as well as realistic broadcast voices and crowd roars.
The package is completed by the built-in 5W x 2 treVolo chamber speakers using dynamic Bongiovi DPS technology, to produce clear sounds and deep bass for a truly immersive 360-degree surround experience.
Other notable features include a 1.3x zoom ratio to maximize your home space, projecting sharp, crisp visuals up to 150″ from just 3.8m away (or 100″ from 2.5m), as well as vertical and 2D Keystone auto-correction. The latter corrects any broadcast content to rectangular, right-angled images, so you can say goodbye to trapezoidal, off-center projection. With this, you have the choice of placing the projector in a convenient location, while still getting crisp and pleasing screen displays just like you would on a traditional TV.
Beyond that, the X3000i is a Google-certified Android TV, giving you access to the Google Play Store, as well as the ability to stream directly from platforms such as YouTube, Amazon Prime Video, HBO Go and Disney. +. And if you need to store the projector after a gaming or viewing session, the 272 x 197 x 259.4mm box-shaped chassis makes it easy to store the projector.
Armed with a host of gaming-focused features, the BenQ X3000i 4LED 4K HDR Gaming Projector is the first step towards setting up the gaming room of your dreams. It's bright, crisp, responsive and available on Shop and Lazada for $3,499.
---
This article is brought to you with BenQ.
Passion and love mean little to the Baroness. No man can ever be its master. Where there's terror to sow and make money, that's where it'll be with guns akimbo.
---
Drop a Facebook comment below!
---