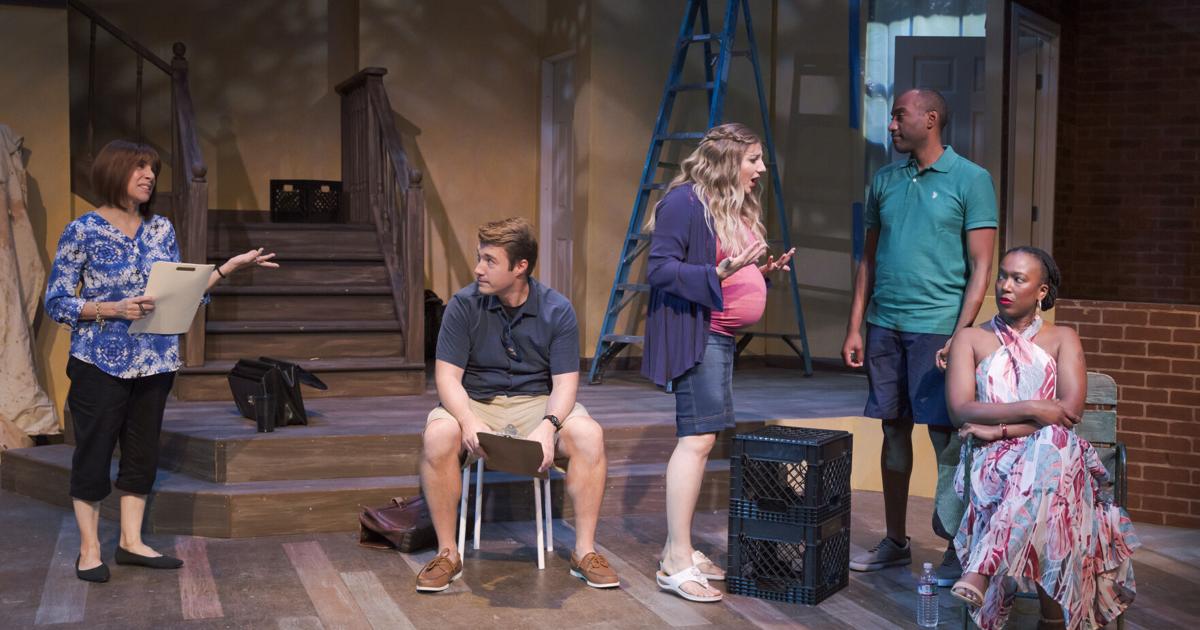 Foster City's Hillbarn Theater plays a winner | Local News
Racism permeates both acts of Bruce Norris' "Clybourne Park," presented by Hillbarn Theatre.
In both acts, the sale of a house in Chicago's fictional Clybourne Park neighborhood is at issue.
Set in 1959, the first act is considered a successor to Lorraine Hansberry's "A Raisin in the Sun," which ends with a black family deciding to move to a white neighborhood.
In "Clybourne Park", the house is owned by a white couple, Russ (Ron Dritz) and Bev (Mary Lou Torre). They don't know they sold it to a black family until a friend, Karl (Scott Reardon), joined by his deaf wife, Betsy (Caitlin Gjerdrum), tells them.
Karl tries to talk them out of it, hinting at first, then becoming more direct. He is supported by another friend, Jim (Steve Allhoff), a minister.
Most of this is silently witnessed by the couple's maid, Francine (Anju Hyppolite), and her husband, Albert (Ron Chapman).
Still grieving the tragic deaths of his and Bev's son, a Korean War veteran, Russ is undeterred in his determination to sell the house and rudely tells visitors to leave.
Act 2 is set 50 years later in 2009. At this time, the house is a repairman in what has become a black neighborhood.
A white couple, Steve (Reardon) and Lindsey (Gjerdrum), want to tear it down and build a much bigger one. These plans are opposed by a neighborhood group led by Lena (Hyppolite) and Kevin (Chapman). It is said that the large new house would alter the charm of the neighborhood. Basically, they fear gentrification.
The two parties, each represented by a lawyer (Torre and Allhoff), meet at home to try to resolve their differences. An entrepreneur (Dritz) occasionally pops in.
Although laced with humor, Act 1 contains some foul language, but Act 2 takes things a step further with tasteless and offensive jokes. Therefore, this piece is recommended for mature audiences only.
Directed by Phaedra Tillery-Boughton, the seven actors do an outstanding job of creating characters with distinct ways of speaking, acting and reacting that can be natural, likable or annoying, depending on the circumstances.
Eric Olson's setting makes a more modest transition between the two acts than the transition seen in other local productions, which depicted the house totally ransacked in Act 2.
The theater lobby has a few small signs with 1959 prices such as 25 cents a gallon for gas and $3,000 for a Pontiac.
Consultant Pam Lampkin's costumes and Jenny Maupin's wigs and hairstyles accurately depict the changes over 5 decades.
Winner of the 2011 Pulitzer Prize for Drama and the 2012 Tony Award for Best Play, this thought-provoking play shows that despite changes in outward appearance, racism and class differences are still relevant.
Running approximately 2.5 hours with an intermission, "Clybourne Park" will run through October 30 at the Hillbarn Theater, 1285 E. Hillsdale Blvd., Foster City.
For tickets and information, call (650) 349-6411 or visit hillbarntheatre.org.