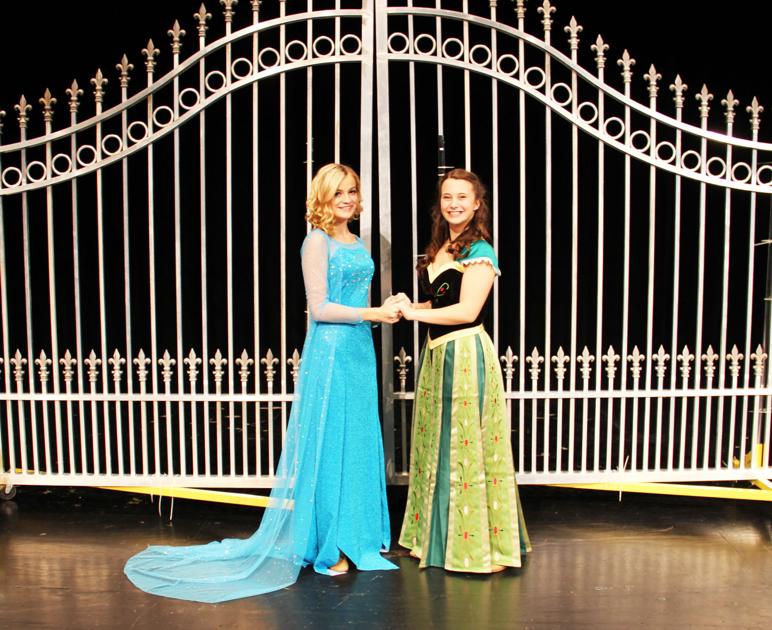 'Frozen Jr.' with a twist | The Aggie play features ASL everywhere | Free sharing
Enriching the life of the community through the arts is the raison d'être of the Aggie Theater. In their upcoming play, "Frozen Jr.," the theater company plans to show that art is for everyone by adding American Sign Language (ASL) throughout the play.
Aggie theater director Kelleybrooke Brown said the actresses who play Elsa and Anna have agreed to learn ASL for the production of "Frozen Jr." AHS junior Haylee Pack, 16, plays Elsa, and AHS sophomore Jensyn Seay, 15, plays Anna. Additionally, Brown said the two girls also volunteered to help young actresses playing young Elsa and Anna and middle Elsa and Anna learn ASL. In just a few months, Brown said his young actresses had learned their lines in ASL.
"I am grateful to the kids who agree that this art is for everyone," Brown said. "The dedication it takes to learn the lines, the blocking and the choreography is quite intimidating, but on top of those responsibilities add learning a new language to open up. [this play] to everyone – it's a new level of amazing. Albertville, you have much to be proud of! Come see for yourself!
Since most people already know "Frozen", Haylee thinks it will get crowds to see "Frozen Jr". As Elsa wants to do more than just act, Haylee said she wants to let audiences see that including everyone is the right thing to do.
"A lot of people know about Elsa's situation – she can't really be herself, and I just want everyone to realize that this is something that people go through and that everything is fine because everything what you do works, "said Haylee.
Jensyn said including ASL in the show would bring a greater theater experience to those in the audience who would otherwise have to watch a translator.
"I'm so excited for this show," Jensyn said. "I saw our students who speak ASL fluently, they came [to see Aggie Theatre's shows] for years, and so they can finally not watch a performer for the whole show and really get involved and not feel like they're watching theater but they're there, it's so exciting to leave that to them .
Since the main characters sign their lines, Haylee said this play was more of a personal experience between Elsa, Anna and the ASL students.
"Most people in the audience still have this experience, but ASL students don't," Haylee said. "It's just our little thing just for them."
Even though Albertville schools have ASL students, Brown said every screening of "Frozen Jr." would feature ASL so everyone in the ASL community has a chance to watch.
"As much as this show is for us as students, it's for the community," said Haylee. "They've supported us through all of these things, and we're here to give back to them. All the stuff they put into our shows, we're happy to give back.
"Frozen Jr." will be at the Center des beaux-arts d'Albertville, located at 402 McCord Avenue East, from November 21 to 23 at 7 p.m. and also on November 23 at 2 p.m. Tickets will be sold at the door for $ 10.
Aggie Theater was established by the Albertville City Schools Foundation to encourage the performing arts, and it is open to K-12 students enrolled in schools in the city of Albertville.