Fun and Games at 25 live event with The Hitchers
LIMERICK band The Hitchers are celebrating the 25th anniversary of the release of their debut album with an online event at 8pm this Thursday March 17, St Patrick's Night.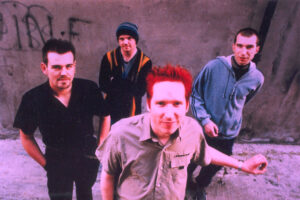 The Facebook Live event will feature the band's newly remastered debut album set to be released on vinyl for the first time next week and a chat with the band members and a few other surprises on the night.
The band explained: "As St Patrick's Day weekend marks the true 25th anniversary of the Theater Royal launch concert of Fun & Games, we will be hosting a small online listening party on Patrick's night if you want to join us.
"Very simple idea. Pour yourself a glass of something effervescent then press play or drop the needle on the album at 8 p.m. While we listen to Niall be here live on Facebook to take a peek under the hood of the album (although he'll try not to talk about the songs), we'll be posting thoughts and anecdotes on our social media and answer questions.
Take part in the event from 8 p.m. this Thursday 17 on this link https://fb.me/e/2UurHfyna
More info on the album release at www.thehitchers.ie
About The Hitchers: Releasing two albums and a slew of EPs in the late 90s, the Limerick band caught the eye of legendary BBC DJ John Peel, who championed the band's debut album to the UK, It's All Fun & Games Til Someone Loses An Eye' and had the band record a session for their show which is rebroadcast to the present day.
The double single 'Strachan/You Can Only Love Someone' garnered many more friends, applause and award nominations (on the gong of Best Irish Single by ordinary Ash' A Life Less… no shame in that) just as bands followed through to LP 'For The Want of Some Better TV' and the band were still present on the concert circuits of Ireland and Britain, earning a reputation for sharp punk-pop, lyricism acerbic and witty, from a choir of chants on the terrace' and finally to fiery live performances.
Sign up for the weekly Limerick Post newsletter
Although The Hitchers officially decommissioned in 2001, they have, over the years, banded together for one-off shows and mini-tours. Media interest in the band is revived every two years on the occasion of the World Cups and European Championships, leading Guardian readers to vote 'Strachan' as 'the greatest song in football' all time". Warner Bros Germany approached the band for permission to use the song on "11 Freunde – the album" where The Hitchers would find themselves in a rarefied aerial storyline – alongside some of their greatest heroes including Billy Bragg, The Wedding Present, The Proclaimers, New Order and Half Man Half Biscuit.
In their own words: "In the UK, the Hitchers are best remembered for Strachan. It is the song which has been played the most and which is always played and shaken up and which arouses interest when the World Cup or the Euro are taking place.
Then in Ireland, despite the fact that Killed It With My Bare Hands, another Strachans single, "Fun & Games", gave us our highest charting, I sometimes think it's more of a Red Mohair Jumper era/ She'll Be Sorry which immediately preceded Strachan and the two albums that sound good to people. Then, more locally still, when you get home to Limerick, there's this palpable thing about the "teenage" Hitchers – the one with Eoin and Benny and Bombs in Baskets of Fruit. So I tend to think of The Hitchers less as a band and more as Dallas. There are characters involved in the story who are only there for the first two seasons. But the story continues…"