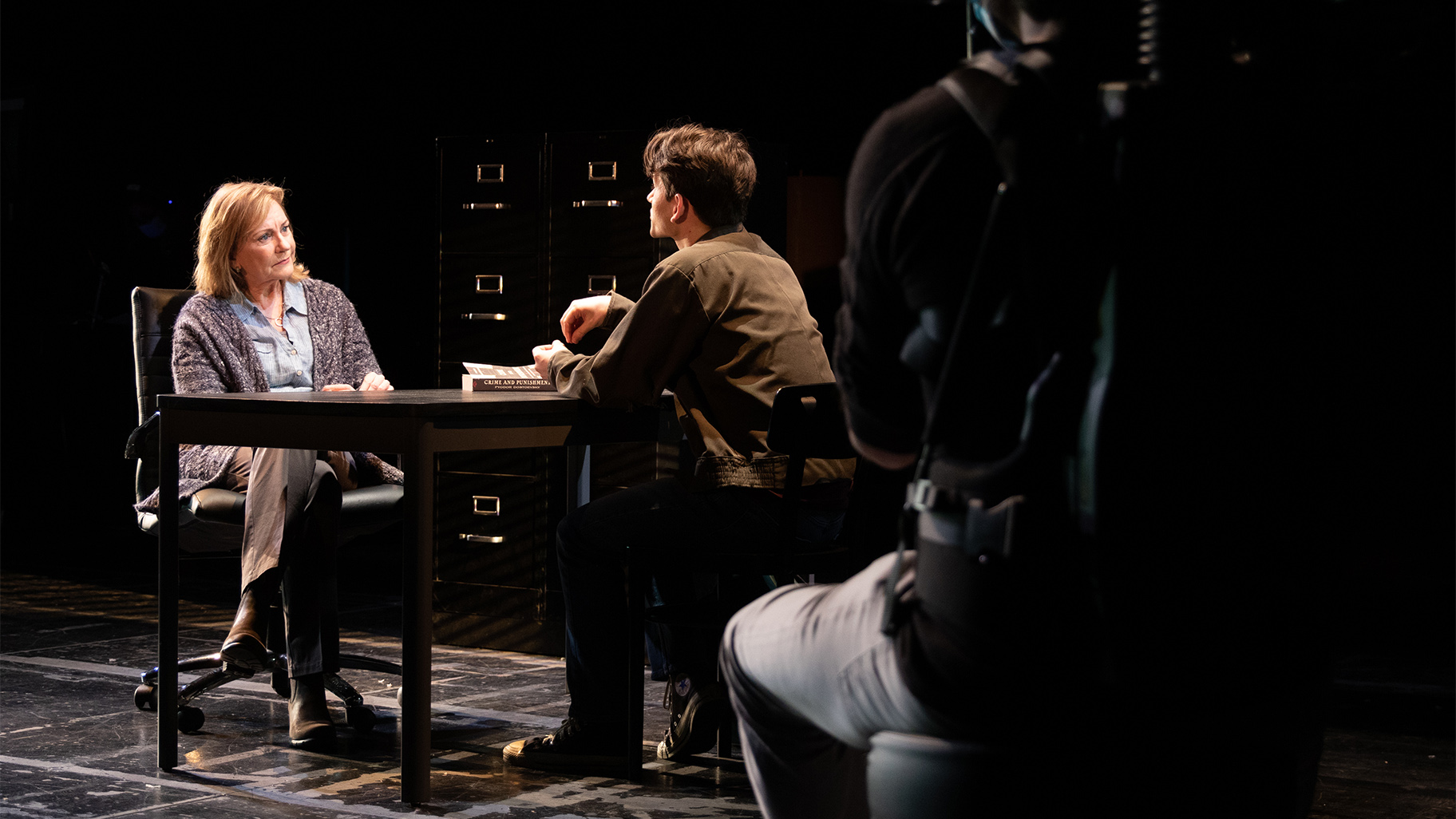 Goodman play examines life, death, love and 'the sound within' | Chicago News
[ad_1]
Mary Beth Fisher (Bella) and John Drea (Christopher) in "The Sound Inside" by Adam Rapp, directed by Robert Falls at the Goodman Theater (May 13 – 16, 2021) (credit Cody Nieset)

Besides taking a really deep breath, the first thing I did after watching Adam Rapp's play, "The Sound Inside," one of three productions that aired live in the new Goodman Theater LIVE series, was to revert to the following iconic quote from "Howards End", by English novelist EM Forster:
"Just log in!" It was his whole sermon. Just connect prose and passion, and both will be exalted, and human love will be seen at its peak. No longer live in fragments. Just connect, and the beast and the monk, deprived of the isolation that is their life, will die.
Although it is a bristling discussion of Russian writer Fyodor Dostoyevsky and his novel "Crime and Punishment" that sets Rapp's play in motion, it is Forster's words that encapsulate the essence of the story. 'playwright's story about the brief but heartbreaking relationship between Bella (Mary Beth Fisher), a lonely middle-aged Yale teacher and author who teaches a creative writing class, and her intense, gifted and deeply alienated freshman , Christopher (John Drea).
Performed on stage Goodman's Owen, directed by Robert Falls, and featuring excellent work by Christiana Tye (video director) and Gabe Hatfield (director of photography), the 90-minute play (which made its debut in 2018 and arrived on Broadway the following year under the direction of David Cromer), was born about a year before the arrival of the COVID-19 pandemic. But with his painful sense of isolation and disconnection (and Rapp is a mind-boggling writer, by turns scorching, sardonic, and feverishly emotional), he conjures up what seems like a perfect metaphor for this moment. And Fisher, the still impeccable veteran of the Chicago scene, and Drea, a young and extremely talented actor raised in Chicago, are an ideal match: intelligent, intensely focused, and endowed with a keen sense of language which is exactly what is. necessary for Rapp's cutting but often poetic language, and for the self-deprecating riffs he created for his two characters.
As Bella and Christopher first forge a tense but provocative bond during a teacher-student encounter in which they joke about Dostoevsky and his tormented character, Raskolnikov, they also feel a certain instantaneous mutual understanding. Both are strangers, alienated from others (and in a certain sense from themselves). Bella, 57, is single and childless, extremely self-aware and has never found the perfect man. Christopher is bright, sensitive, and more or less friendless. Both are self-denigrating loners, but not without a sense of their own fragile exceptionalism. And both are writers who in their own way walk a thin line between life and death, hope and despair, thirst for literary success and, above all, hungry for a powerful connection. with another human being. Over the course of several months, and despite their teacher / student status, they bond in unexpected and powerful ways.
Without giving too much away, suffice it to say that Bella is suddenly diagnosed with advanced stomach cancer, rejects chemotherapy, and recruits Christopher to administer the end-of-life procedures. I won't go further except to say that "The Sound Inside" will echo loudly in your consciousness for a long time to come. And perhaps it is better to end here with a quote from Dostoyevsky: "Pain and suffering are always inevitable for a great intelligence and a deep heart.
Rapp's play will run until May 16 only. The next episodes of the series will be "Ohio State Murders" by Adrienne Kennedy (June 17-20) and "I Hate It Here" by Ike Holter (July 15-18). For tickets, visit: GoodmanTheatre.org/Live.
Follow Hedy Weiss on Twitter: @HedyWeissCritic
---

[ad_2]