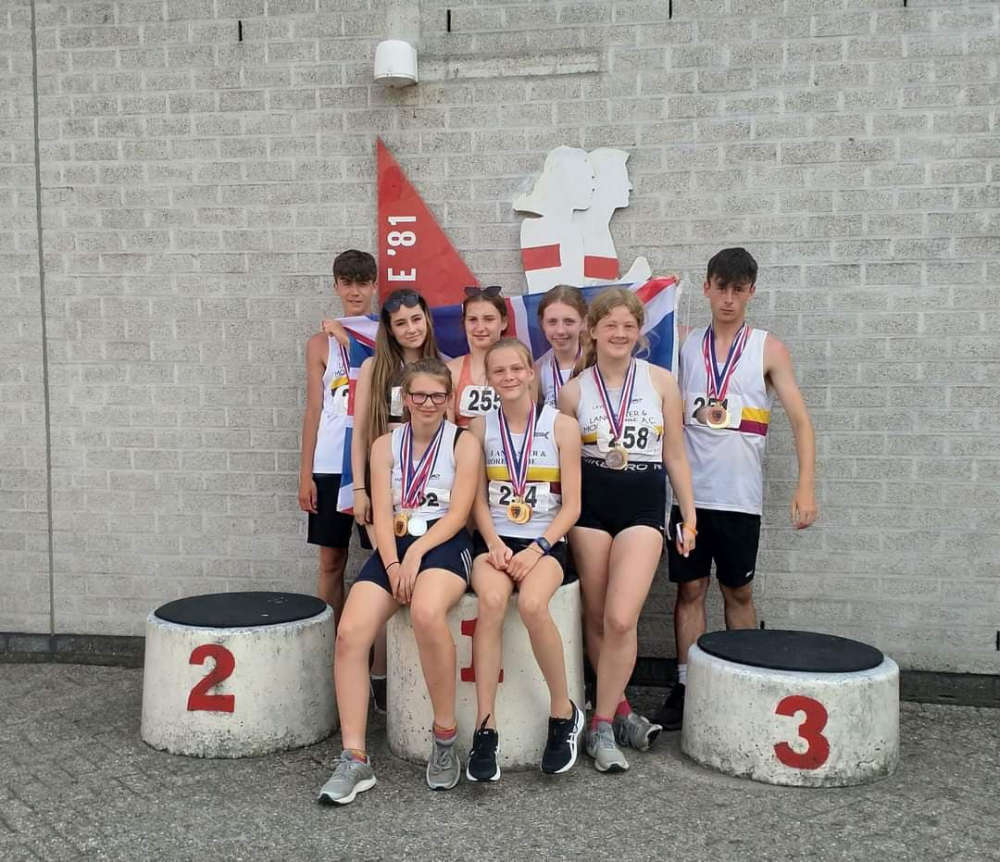 Lancaster team win 85 medals at 'fantastic' International Youth Games
Some members of the Lancaster team with their medals
A Lancaster District youth team returns home to celebrate winning 85 medals at the International Youth Games.
The team took part in the Games in Almere, the Netherlands, last week – the first since 2019 due to the Covid pandemic.
Thirty-six young people from our region competed in athletics, rowing and swimming and brought home 33 gold, 31 silver and 21 bronze medals.
Lancaster also had a team of dancers training with the other towns for a performance at the opening ceremony and there was also a theatrical production at the closing ceremony.
The Games are to be held in Lancaster next year.
Photos courtesy of International Youth Games – Lancaster, Facebook page.
Chris Haggan, Lancaster International Youth Games Committee Secretary, said: "When we first arrived in Almere there were a lot of nervous people, not knowing what to expect in the next few days. .
"They settled in quickly and had a fantastic week of sport and culture, and made many new friends. They look forward to reuniting with their new friends when Lancaster hosts the Games in 2023.
"Since 2017 the Lancaster team has been run by a team of volunteers and without local government funding. Our main supporters in the past have been Sport Lancaster and the Duchy of Lancaster Charitable Fund (funding is not available to the Duchy in 2023). But the team of volunteers are committed to the Games being held in 2023 in Lancaster."
Councilor Joyce Pritchard, Mayor of Lancaster, joined the team on the trip to the Netherlands.
Lancaster competes in the Games against its twin cities; the others being Almere, Rendsburg in Germany and Aalborg in Denmark.
The committee is made up of local sports leaders who came together to keep Lancaster involved in the Games after Lancaster City Council withdrew funding in 2016.