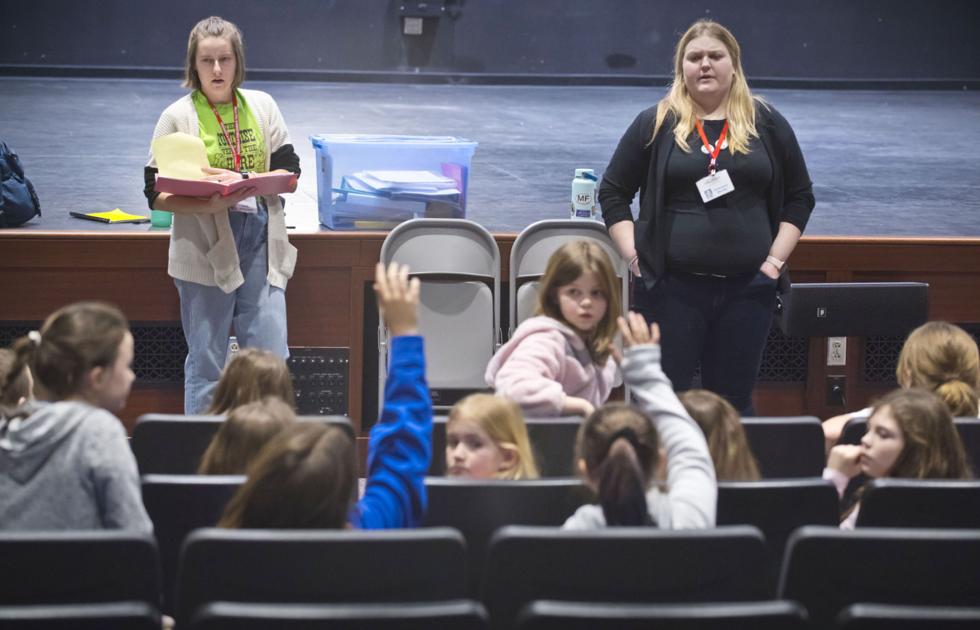 Missoula's Children's Play in Ogdensburg to Feature Over 40 Local Actors | Arts and entertainment
OGDENSBURG – Courtney B. Marks and Calli M. Mc-Cartan are traveling performing arts ambassadors who are in a race to prepare 41 local students to perform a play in the George Hall auditorium of the Ogdensburg Free Academy Saturday.
The two actors / directors of the Missoula Children's Theater arrived in town on Sunday, auditioned for the students on Monday and will have a show ready for the stage on Saturday.
The play "The Turtle vs. the Hare", presented by Ogdensburg Command Performances, will be presented at 3 pm and 5:30 pm on Saturday. Tickets cost $ 6 for adults, $ 4 for children under 12, and free for preschoolers. Tickets can be purchased online at ILoveTheatre.org, by phone at 315-393-2625 or at the door.
Mrs. Marks and Mrs. McCartan work fast.
After Monday's auditions, some of the cast had their first rehearsal. On Tuesday, the two directors worked in small groups with the goal of organizing everyone and learning their roles.
"By Wednesday we have the full cast and by then they know the whole show," Ms. Marks said. "And then we rehearse on Thursday, then they do their dress rehearsal on Friday and they do two shows on Saturday."
The show is very flexible and can be adjusted depending on the number of children auditioned.
"We are usually between 50 and 60 years old, but in some places you will have 10 children auditioned and in others you will have more than 100," said Ms. McCartan. "Everything is very flexible.
Ms. McCartan and Ms. Marks take turns, week to week, being on stage and working behind the scenes. In Ogdensburg, Ms. McCartan will be performing, while Ms. Marks will be backstage making sure everything goes smoothly and everyone finds their bearings.
"There are a handful of parts you really need to help tell the story," Ms. McCartan said. "And then there are a lot of band parties added."
The writers at the Missoula Children's Theater take well-known fables, fairy tales and stories and add additional characters throughout the plot. So when there are only a few actors in the production, a group can become a character, or a group of 10 can become a group of three, Ms. McCartan said.
Kayleigh Chevrier and Peighton Parmer play Coach's lead characters Shelley Bowlback and Curly Hare in the Ogdensburg production.
Other characters featured include Amira Mallette as Esther Bunny, Leah Pike as Little Bonnie Bunny and The Weasels played by Chloe Frank and Jamie Furgison.
In the Reptile Cast: Brielle Wallace is Slinky Sidewinder, Adrianna Halpin is Maraca Rattlesnake, Emilyn Shaver is Oggy Froggy, Sophia Halpin is Joady Toady, Aubrey Cushman is Beadie Bearded Dragon. Caleb Devanney is Lizard McChill, June Demers is Gala Gecko and Kenzie Phillips is Gila Gecko
Ferrets will be played by Jackson Duprey, Caelum Rider and Georgianna Wells.
The TV crew will consist of Lauren Bouchard, Abigail LaRose and Alaylah Mallette with Tanner Knapp, Jayden Salazar and Olivia Sias playing the Stagehands.
The Curly Hare fan club will be played by Rozalyn Dwyer, Colbie Frank, Emmy Lowry, Maree-Anna Roddy, Maria Sawyer and Kendall Scholfell. Kaydence Ashley, Sophie Barr, Abby Bateman, Temperance Cota, Delaney Merna, Hannah Mousaw and Blair Reynolds play Curly's Posse.
The Thespian troupe includes Mairin King as Alfred, Brooke Irvine as Nigel, Khloie Watson as Basil, Brinlee Geary as Farnsworth and Braelyn Frisian as Welsley.