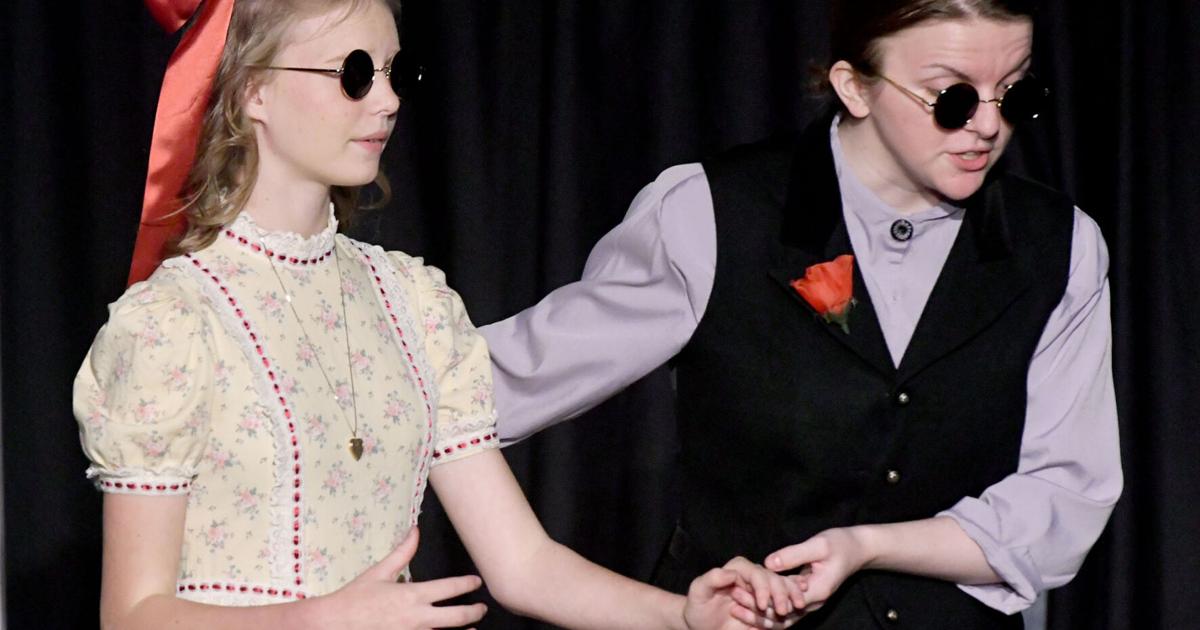 Pioneering Songwriter Focuses on Latest Stained Glass Play | Lifestyles
[ad_1]
IIt would be easy to label "Songs in the Night" as a musical. and in some ways, the latest production from Joplin's Stained Glass Theater certainly features some much-loved religious hymns that will be hummed and stomped on by members of the audience.
Yet this drama is both a love letter and a celebration to the woman who wrote these hymns – Fanny Crosby. Although diagnosed legally blind at the age of 6 weeks, she grew to become known around the world both as the "Queen of Gospel Songwriters" and the "Mother of Modern Congregational Singing in America".
"I am a music person; I love the hymns that are a part of this show, "said Jill Spencer, the play's director. However, the show rightly focuses on Crosby's remarkable life. "She has lived such an inspiring life. Thinking about how much she's had to overcome… it's just amazing how she wrote so many hymns, and she didn't let (handicap) slow her down.
Crosby, who was a household name when she died at the age of 94 in 1915, was a prolific hymn, writing over 8,000 hymns and gospel songs. In fact, over 100 million copies of his songs were still in print as of 2021. Some of Crosby's best known songs include "Pass Me Not, O Gentle Savior", "Praise Him, Praise Him", "Blessed Assurance" , "Jesus tenderly calls you home", "Save the perishable" and "To God be the glory".
In fact, Crosby later said that her disability was not one at all: "If I was offered perfect earthly sight tomorrow," she once wrote, "I wouldn't accept it. I might not have sung hymns in praise of God if I had been distracted by the beautiful and interesting things about me.
Spencer can certainly sympathize with that. 25 years ago, she was diagnosed with multiple sclerosis, an autoimmune disease that constantly puts her immune system at risk.
Every day, she has to take special precautions to ensure that she is not exposed to various viruses, even like the common cold or the seasonal flu, both of which can trigger her illness in horrific ways. Symptoms can include "I am losing the use of my legs which is drastically ending my life."
Like Crosby's accomplishments despite his blindness, Spencer teaches music theory lessons for Ozark Christian College and piano lessons for students at the Palen Music Center.
"This is how I see my life with MS, I want to continue and continue to have an influence" as Crosby had been over a century ago.
Spencer also starred in "Songs in the Night" when a Jefferson City-based theater – also known as the Stained Glass Theater – put it up years ago.
"I've always liked it," she said of "Songs in the Night". "It's such a powerful story. and I've always wanted to do it again, whether it's directing or being there. The opportunity arose because we had to restart some shows after being away for so long, so I thought it was a great opportunity to get the idea to do the show off.
Written by Springfield playwright Joseph Ransom, the play offers a huge cast, including a dozen child actors.
"Two of my passions in life are music and kids, so it's a combination of the two," she said with a chuckle. "The biggest thing I want them to experience is the joy that music can bring to their lives."
The cast includes McKenna Drumm and Mary McWethy as young and old Fanny, Paul Williams, Grace Dalrymple, Daniel Wilcox, Bobby Jo Wade, Nathanael Bond, Chip Spencer, Jared Jonston, Diann Mazurek, Ric Stiegman, Caleb Hilsenbeck, Sid Davis, Jo Ellen Davis, Deb Roy, David Cheek, Jordan LePage, Nick Wade, Mike Pennington, Audrey Hoggatt, Darlene Drury, Maddie Dayton, Halia Stites and a children's choir of Isaiah, Macarrie and Makinley Bean, Alyson Gonzalez, Kendra Klein, Jazzlynn O 'Hanlon, Abigail White, Chloe and Karissa Huggins and Tabitha and Tobias Zimmerman.
[ad_2]