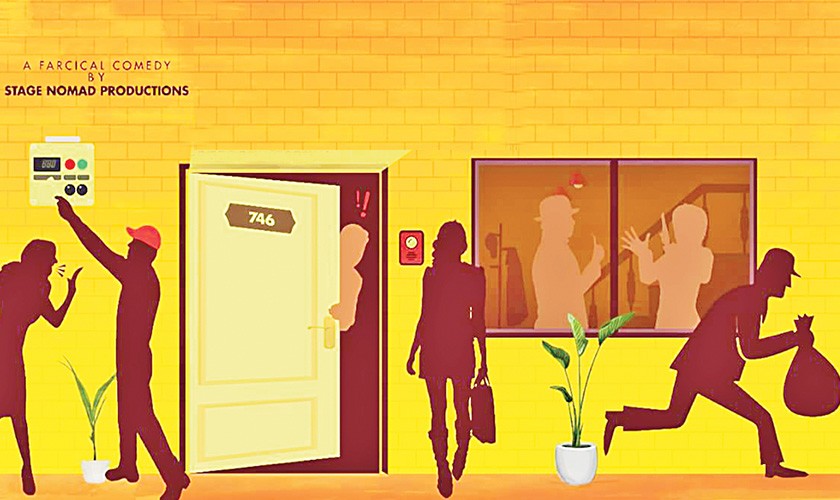 Play, Apartment #746, to premiere in Karachi next month
As the theater scene is gradually growing in Pakistan, more and more plays are being created and performed to captivate theater lovers across the country. Among some of the productions slated to premiere in the coming days and months is one called Apartment #746 which is an Urdu language adaptation of Peter Shaffer's wacky play Black Comedy. Written by Talal Jilani, the upcoming play follows the story of a guy named Abbas as it was directed by Syed Meesam Raza Naqvi.
"It's relevant to the current situation in our country," the play's author, Syed Talal Jilani, told Instep in a phone conversation. "It's a chaotic play with slapstick jokes, but it's also relevant to our part of the world and highlights issues like shedding, marriage, etc."
Talking about the challenges they faced while adapting the play and its relevance to Pakistan at the same time, Talal shared, "There were a few things we needed to change in terms of style and relevance because at originally it was written for another audience. We wanted to create something that Pakistani audiences wanted to see in theater outside of comedy. It will be a roller coaster ride and is for people of all age groups.
Apartment No. 746 revolves around the life of Abbas as he prepares to welcome the father of his love who visits him on the same day as a potential investor interested in buying his paintings.
Reflecting on the current theater scene in Pakistan, Talal added, "It was very important to break the current rhythm of theater in Pakistan. The very essence of theater has not yet developed here and if it is there, it is very little. So we wanted to draw audiences into the theater, give them a break from TV shows, and give them something to take home.
It was very difficult; it took us about three months to maintain the essence of the theater and keep the adaptation entertaining at the same time. This is what will make apartment #746 unique.
Apartment #746 features Syed Talal Jilani as Abul Hasan, Zarqa Naz as Shakeela Begum, Muhammad Muneeb Baig as Abbas, Fajir Sheikh as Amna, Sabihah Zia as Zara, Faraz Ali as Zaviaar, and Fraz Chhotani as Ibrahim Qureshi, among others. The play opens in Karachi next month where it will run for over 20 days before moving to other cities.