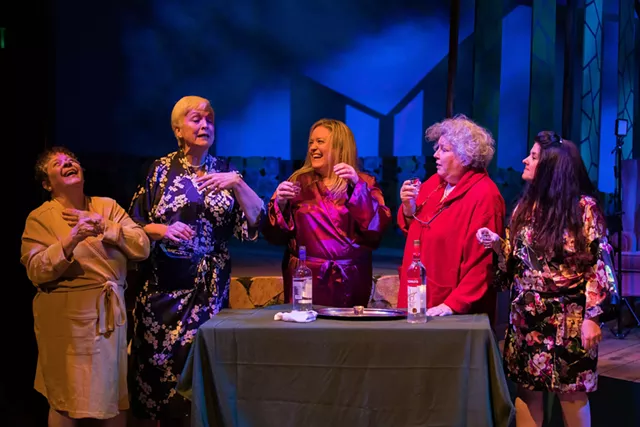 Review: Bare bones script hinders Blackfriars' 'Calendar Girls' | Theater
Not everyone will be won over by a show that begins with a group of white women simulating Tai Chi with unconvincing British accents, but "Calendar Girls" doesn't care. This shameless production which runs until May 22 marks the end of this year's Blackfriars Theater season.
'Calendar Girls', adapted for the stage from the 2003 British comedy of the same name, is based on real events. After Annie's husband dies from leukemia, the middle-aged women at her women's institute decide to use their annual calendar to raise money in his honor. Their calendar usually features "spectacular views" modeled after churches in Yorkshire, but they realize they can make more money with a different type of spectacular view: they will pose naked for photos. Not naked, as the show quickly shows, which would leave nothing to the imagination, but naked – using everyday objects like flowers and kettles to cover private parts.
Before we get to that, however, the play opens with several scenes depicting the antics of everyday life at the Women's Institute, including attending a broccoli lecture, dressing up in Victorian outfits for Christmas, and participating in a baking contest.
It's a bit of a slow start, although it's nice to see a community of older women laughing together on stage. Each of the Women's Institute's six characters is primarily defined by a quirk or two: the singer who feels most at home at the piano; the teacher; the one who rode a topless Harley when she was 16. The cast members, led in a standout comedic performance by Pam Feicht as Chris, joke around with ease and perform with warm affection for one another.
The opening scenes also feature Annie's lovable, sunflower-loving, otherwise forgettable husband, John, who is diagnosed with cancer and then dies, inspiring the idea for the calendars. Having not seen the film, at this point in production, I wondered why I was sitting in a cinema watching this story rather than streaming the film at home.
Soon after, however, the show makes a compelling case for bringing the source material to the stage when the women finally pose for the timeline. Thanks to the cast's playful confidence and skillful direction from Alexa Scott-Flaherty, the photoshoot scene is lively and dynamic, with some of the best theatrics Blackfriars has showcased all season.
Essentially, the audience watches the same thing over and over: a makeshift curtain rises, a woman undresses, the curtain drops to reveal a prop covering her breasts, and the camera flashes. And yet, each repeat feels distinctive and fresh, thanks to the humorous use of the mundane household accessory that covers it, or each character's delight in their brash new behavior. The opening night audience ate it up, celebrating each woman's reveal with thunderous applause and cheers.
Part of the magic of this sequence is that its infectious joy distracts from the play's underlying superficiality and the deeper questions it fails to answer: who are these women and why is it important for them to pose naked? Yeah, they're raising money in John's memory for a hospital couch. Other than some new furniture, what's really at stake here? Why are women so eager to expose their body parts to strangers?
"Because it's fun" would be a reasonable explanation for a less ambitious piece, but there's still a whole other act to play. Tim Firth, who co-wrote the screenplay and adapted it for the stage, attempts to make up for the first act's lack of stakes with an excess of drama in the second act, as the timelines become a hit and the Women's Institute is showered. in attention. Literally – fan mail is falling from the ceiling.
Despite fun theatrical moments like this, the second act is overloaded with attempts at character development that only muddy the story. New storylines are introduced and resolved before the audience has time to worry about them – an unfaithful husband, a death in a family from breast cancer, a rivalry in a British town.
The most contrived plot development is a fight between Annie and Chris, in which Annie accuses Chris of letting the fame of their timelines go to his head. It's not because Chris acted particularly stuck-up, but because she chose to join the rest of the Women's Institute for a TV shoot rather than help out her husband at a work event. Mary Krickmire as Annie plays with crushing pain, suggesting that her anger at Chris is really misplaced grief for her own deceased John. The script, however, expects the audience to view Chris' choice to spend an afternoon with other women instead of her husband as pretentious. She can only redeem herself by humbly admitting, "It's John's schedule, not mine.
Maybe it's the problem with the script. After spending over two hours with this community of women, their timeline is still about a dead, off-stage man for most of the play. Similarly, the production as a whole is about a stunning theatrical sequence that ends with an intermission.
Katherine Varga is a freelance theater critic for CITY.