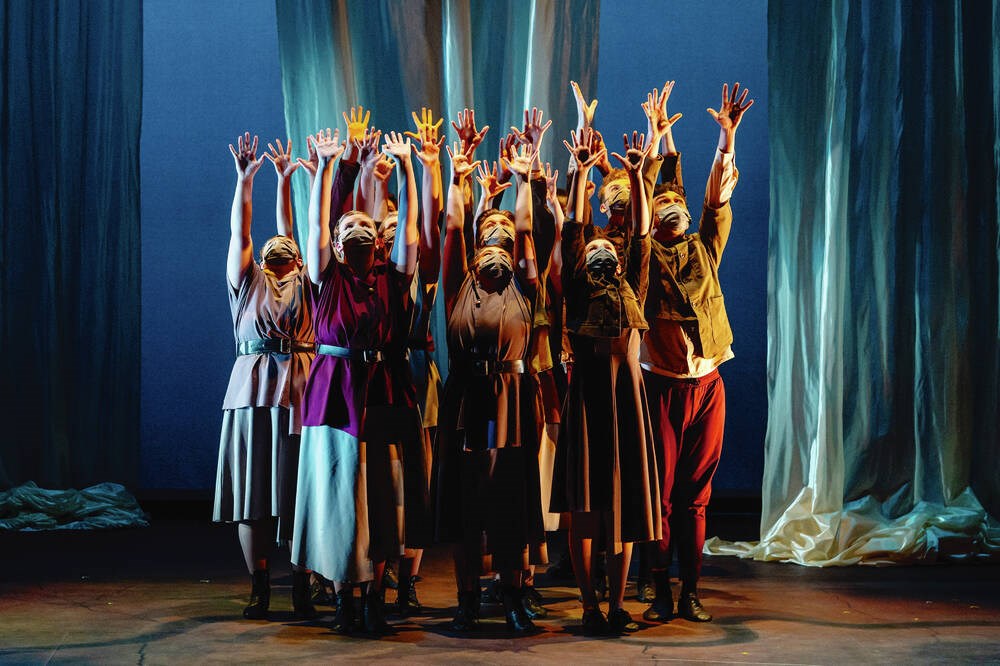 Review: The Phoenix Theater play is an ambitious take on TS Eliot's work
This 75-minute mix of dance, poetry and song is intriguing, and not for the faint-hearted
Director/choreographer Conrad Alexandrowicz is certainly not lacking in ambition. On Thursday night, the University of Victoria's Theater Department created Waste Earthhis theatrical adaptation of TS Eliot's insanely difficult masterpiece.
Performed by theater students wearing COVID masks, the 75-minute work is intriguing — and not for the faint-hearted. It probably works best as a show. With the help of choreographer Jacques Lemay, Alexandrowicz created visually powerful scenes that would fit perfectly into an evening of modern dance.
Corpses roll briskly across the scene; a man in a canoe leads a casual Shakespearian Rag dance; beer-drinking celebrants stagger around singing country and western. There is a dramatic use of three drops of silk from the ceiling to the floor which shimmer and billow.
Reciting lines while wearing medical masks is difficult. Several main cast members projected well; others have been less successful in making themselves heard beyond the spotlight. A greater emphasis on projection and – and more theatrics in delivery – would have improved this performance.
One of the most famous poems of the 20th century, The Waste Land (1922) is also among the most difficult. In 434 lines, Eliot offers a stunning kaleidoscope of images and references that has allowed scholars and students to skim through textbooks for a century. Containing over 100 literary allusions, The Waste Land takes its hat off to Dante, Huxley, Petronius, Shakespeare, Milton, Marvell, Ovid, Spenser, Chaucer, Baudelaire, Wagner and Virgil. Eliot also refers to things like the Fisher King and the Holy Grail, Christianity, Buddhism, and Hinduism.
It's not all high spirit stuff – the poet dives into the dastardly store of rags and bones when necessary. A publican yells "It's time!" while the beer-drinking women exchange gossip. The Shakespearean Rag mentioned above was a ditty of the time – the 1920s equivalent of barbie girl Where Baby has Back.
This staging conveys a keen sense of the themes that obsessed Eliot. He wrote about an England devastated by the First World War and oppressed by modern life in general. His characters suffer from post-war post-traumatic stress; they are disconnected from nature, alienated, spiritually barren.
Death lurks around every corner. A hard-fought veteran asks if a buried corpse has "started to sprout" in a garden. In Alexandrowicz's stage version, people appear to be munching on corpses like rats.
To hear The Waste Land recited is to be reminded of how powerful and compelling it can be. It's a pure thrill to hear lines like "April is the cruellest month, breeding/Lilacs out of the dead land, blending/Memory and desire…"
In the stage adaptation, this is delivered by a man lying on a sofa while his psychiatrist takes notes. Alexandrowicz also reinvents other passages in bold ways. The section that mentions "There is shade under that red rock" is spoken by two evangelical preachers with Southern accents. When the "carbuncular" young man imposes himself on an unresponsive woman, the stage version has another couple reproduce this act simultaneously: a woman strangles a man – a visual manifestation of the victim's rage.
As daring – after singing lines of London Bridge is collapsing – Alexandrowicz makes the cast dance to the rock song London calling. We certainly know TS Eliot wasn't a Clash fan, but it seemed thematically appropriate with lyrics like: "London calls the distant cities/Now war is declared and the battle falls/London calls the underworld / Come out of the closet you boys and girls.
If you haven't read land of waste (or if it's been a while) I recommend you freshen up before attending the show. It continues at UVic's Phoenix Theaters through February 26. Online performances are also available.