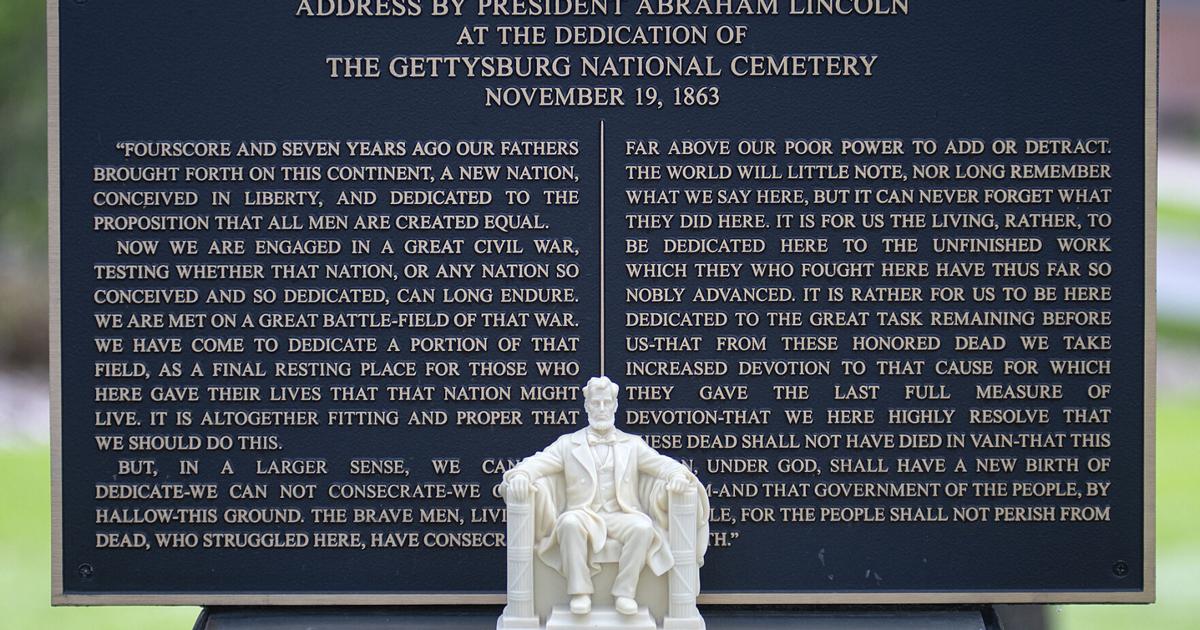 Stenzel's Storyline Part of Lincoln Memorial Centennial Events | Local News
A local man who frequently represents the nation's 16th president will be in Washington, DC, today for the centennial celebration of a national monument built in honor of Abraham Lincoln.
Bryce Stenzel will stay in the capital on Monday to watch the reading of excerpts from a centennial-related play based on his screenplay "Freedom's Temple: The Lincoln Memorial."
The writing project was pandemic therapy for Stenzel, who did most of her Lincoln Memorial research at her St. Clair home. He was aware that the centenary of the monument was approaching and considered it as a subject for writing.
Shelter in place helped with that. "It came out of necessity. I was locked up and needed something to keep my spirits up," Stenzel said.
Two DC-area history organizations help fund Stenzel's travel expenses. The Lincoln Group Inc. of the District of Columbia and the Civil War Roundtable of the District of Columbia are co-sponsors of the virtual reading of the play.
Monday's 3:00 p.m. event is the first presentation of a scenario that provides key background information on the design and construction of the memorial, as well as its evolutionary meaning.
Throughout the 100 years since its dedication, the memorial has served as America's public square, where people gather to demand inclusion in this union, according to the Centennial website.
Stenzel, who recently joined the Civil War Roundtable, or CWRTDC, said he didn't expect the honor of having his storyline incorporated into a national centennial event.
"Through our talks, they found out I was doing this kind of work…I showed it to them and now we're here."
"Freedom's Temple: The Lincoln Memorial" is produced by Lincoln Group Vice President of Special Programs Debbie Jackson and directed by Ken Yatta Rogers.
The play offers behind-the-scenes glimpses that are too often overlooked or overlooked.
"The script gave me the opportunity to use theater to help tell the different stories of people who lived real lives and made real choices that resulted in the creation of a monument," said Jackson.
"Kurt DeSoto of DC's Civil War Roundtable brought the script to my attention and helped shape it to tell the stories. I knew that KenYatta Rogers – a renowned actor, director, and now acting teacher – would be masterful at presenting the material in an effective, entertaining and illuminating way, so we're delighted to have him part of the project.
"Rogers is also keen to bring an inclusive, African-American sensibility to the project. Already, he intends to call on a diverse set of actors, some experienced, others students who will bring vitality to the words and messages.
"I love the title of the piece 'Freedom's Temple,'" Rogers said, adding that the memorial symbolizes everyone's right to be fully recognized and seen.
Using Zoom as a creative tool has worked well for cross-country communications with Stenzel, he said.
Rogers, who is a college professor as well as an actor/director, enlisted a mix of young students and seasoned actors for Monday's virtual reading.
The cast will read with editorial assistance from Jackson and CWRTDC President DeSoto.
In keeping with the play's theme of diversity, Rogers' cast of actors is neither monochromatic nor mono-genre.
Rogers said the memorial was used as a source of inspiration and aspiration that allows us to see "the American dream is possible if we correct ourselves."
Key figures include the designers and builders, as well as contralto Marian Anderson, a black woman who sang outdoors at the memorial to an audience of 75,000 on April 9, 1939. The location for her performance was chosen after the refusal of the Daughters of the American Revolution. to welcome Anderson to his Constitution Hall.
Another actor will play Robert Moton, the only African-American speaker at the dedication which took place during the Jim Crow era of legalized segregation. The remarks prepared by Moton were censured as "too radical" by the organizers of the dedication.
Jackson said she was thrilled to see the months-long collaboration with Rogers and Stenzel come to an end and come to fruition.
"We came in with different perspectives and worked together to see what can be done to get the meaning across."
The memorial and its evolving history and meaning made for a good storyline. The man it commemorates is also a good subject, Stenzel said.
"Lincoln was the first president to be assassinated; this created a lot of emotion in the country.
At first, the memorial was highlighted as a tribute to Lincoln as a Union curator. Its promoters downplayed the president's role in freeing slaves.
There are no immediate plans for further presentations of the work. But curious area residents can visit Stenzel about his storyline on May 30, which is not just Memorial Day 2022, but the actual centennial date of the Lincoln Memorial.
Stenzel will participate in Memorial Day ceremonies at the Boy in Blue Monument, Mankato's memorial to area Civil War veterans. He is active in the historical societies of the region and the groups of re-enactors. Chances are he will be seen at a local event dressed as Abraham Lincoln.
Stenzel does not consider himself an Abraham Lincoln lookalike.
"He was 6'4″, I'm 6'2″…and he was skinny," Stenzel said.
"I've been interested in Lincoln since I was a little boy. I was impressed with his honesty, fairness and compassion…and that he came from a humble background.
"He is the embodiment of the American dream."