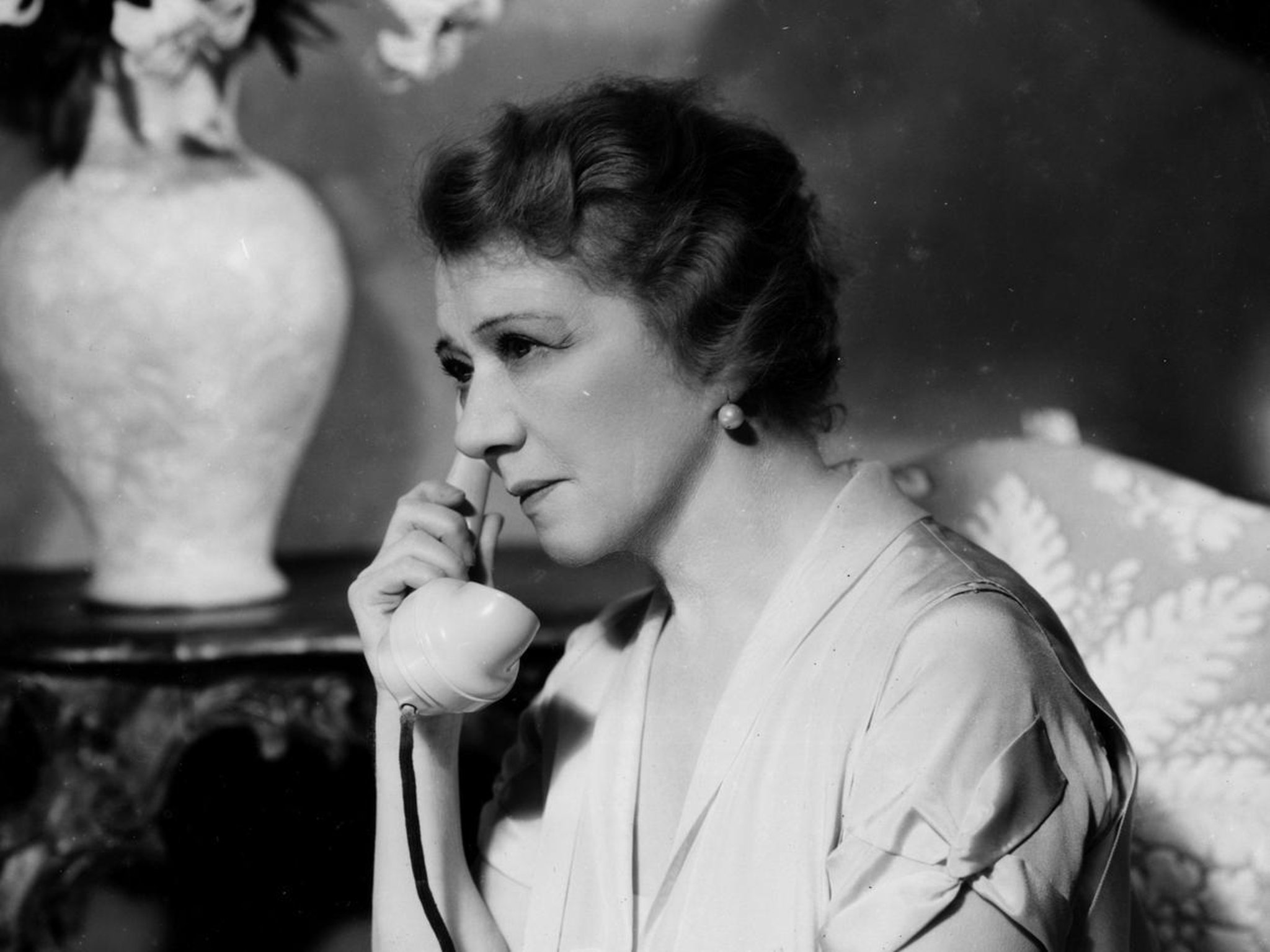 The play at the Grand Théâtre paid tribute to the strength of families as war loomed
[ad_1]
Marie Tempête in 1933. Photo: Getty Images
As we approach Christmas with some uncertainty due to the Covid19 panic, we look back at a holiday season that had a darker cloud above.
By Christmas 1939, Britain had been at war with Germany for four months. The children were evacuated from London.
Families faced separation as the country mobilized. The first effects of rationing are being felt.
Towards the end of December, the Grand Théâtre presented an inspiring play with the improbable title: Dear Octopus, by Dodie Smith, whose last works included 101 Dalmatians.
But there were no doggies in this family drama, starring Dame Marie Tempest, heralded as the first lady of the English stage on this tour after a season at the Queen's Theater in London.
Dame Marie was 76 years old and over the course of a long and illustrious career she had become a perfectionist. Some may interpret this as "hard to work".
His musical career with producer George Edwardes ended around the turn of the century because of his arguments. They came to a head with the opening of an oriental musical called San Toy, at Daly's Theater in 1899.
Miss Tempest refused to wear Chinese pants. Edwardes insisted. When the actress made her first entrance on opening night, she was properly dressed in slacks but wore an outrageous red wig.
The event was noted by D. Forbes Winslow, advertising man for George Edwardes, in a biography.
This was Miss Tempest's last meeting with Edwardes and she soon left Daly for a career in sophisticated comedy.
The significance of his visit to the Grand in 1939 in Dear Octopus was explained by a Gazette reviewer after the opening performance on Boxing Day night.
He began by saying that the fall season had been brilliant at the Grand, with many beautiful plays coming to the theater due to the West End theaters closing.
"And now, last week comes the best play of the year, the latest hit from this surprisingly intelligent playwright Dodie Smith, with Dame Marie Tempest, this great actress, in the role she created."
Dear Octopus was the story of a family reunion for the golden wedding anniversary of Dora and Charles Randolph (Marie Tempest and Leon Quartermaine) and their four children.
The Gazette reviewer noted: "Miss Dodie Smith did more than just present another family reunion: she gave us a moving tribute to the family itself, an institution which, despite the changes at home and unrest abroad, remains strong and firm, linking past, present and future "- a continuity that the playwright called" dear octopus ".
The critic thought that the play, directed by Glen Byam Shaw, was perfect and that the grace and talent of a great actress gave them an unforgettable performance.
The author's full name was Dorothy Gladys Smith (1896-1990) born in Whitefield, now in Greater Manchester.
She wrote several children's stories and also I Capture the Castle, a vague romantic drama that premiered at the Grand in 1954.
It was a whimsical play about a strange family living in a house attached to a castle. It starred Virginia McKenna and featured a young Roger Moore as a local rustic character.
The play had a disappointing run in the West End and was rarely touched until it became a movie in 2003, starring Bill Nighy, Romola Garai, Rose Byrne, Tara Fitzgerald and Henry Cavill.
Dodie Smith's greatest success was 101 Dalmatians, published as a children's novel in 1956, adapted into a Disney animated film in 1961, and into a feature film in 1998 with Hugh Laurie and Glenn Close.
Blackpool's birthday triumph for Diana Ross …
This week's news that Diana Ross will be headlining the first night of next year's Lytham Festival will remind some readers of her sensational gig at the Blackpool Opera House on Friday March 26, 1976.
Six years after leaving the Supremes and forging a career that outclassed her days with the trio, Diana was on tour to coincide with the UK release of her film Mahogany, known for its title song, Do You Know Where You ' re Going To?
Brian Hargreaves of The Gazette exercised his privilege as editor-in-chief by taking the "compositions" for the concert and writing under his signature of Frank Vernon critic.
The show was important for its spectacular setting, and Brian noted that lighting and sound technology had taken a leap forward.
"For a few moments after its materialization, rather than its appearance, its small figure resembled a butterfly entangled in the apparatus of a lunar rocket launch at Cape Kennedy," he began.
Musicians towered over Miss Ross on scaffolding. Above were batteries of lights and it was flanked by speaker towers.
Brian continued, "So go! The singer and the audience were in orbit.
And: "It was not so much an anthology of Ross as an autobiography, his songs linked by the story of his life.
"She didn't miss a shot. And his extract of Lady Sings the Blues allowed a parenthesis in tribute to other black stars, Billie Holiday, Bessie Smith and Josephine Baker.
"But it was his Motown Memories in the second half that got the crowd going.
"It was nostalgia not only for the years the Supremes ruled, but also for those years when the Opera Horse was inevitably on the itinerary of superstars like this."
There was a sentimental touch to the show. It was Diana Ross' 32nd birthday and a suitably "showy" cake was rolled at the end.
[ad_2]