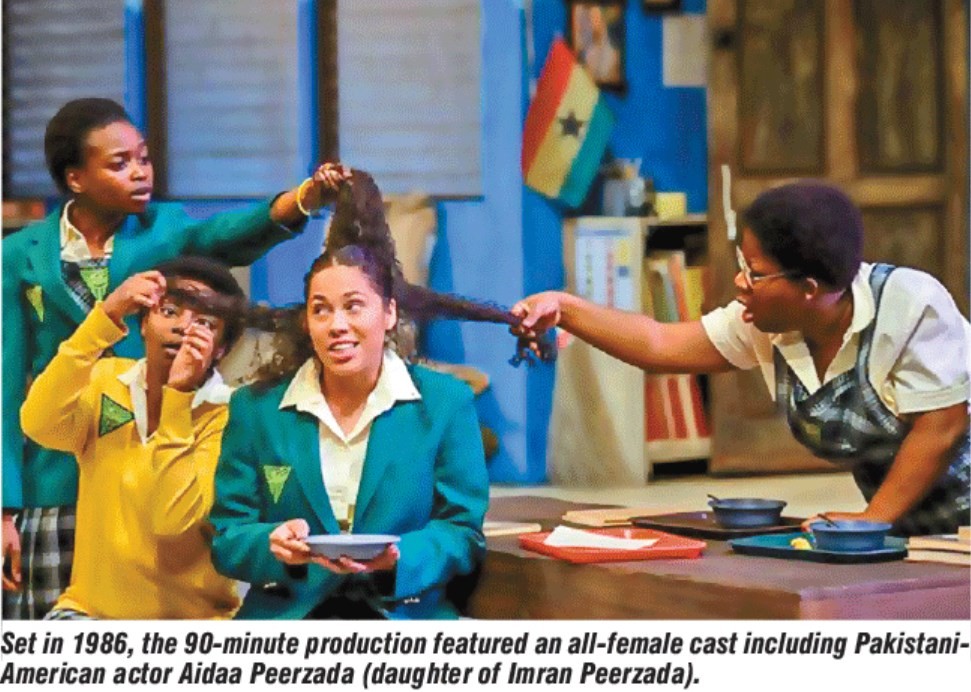 The School Girls play is aimed at a large audience
Pittsburgh, Pennsylvania
The power of theater should not be underestimated, given its potential to change mindsets with thought-provoking narratives. Although this is the most neglected form of performing arts in Pakistan, it has an impact and the quality of the work done in the theater here is commendable. I realized this even better when, on a recent visit to Pittsburgh, Pa., I went to see playwright Jocelyn Bioh's hit comedy, School Girls; or, The African Mean Girls Play.
Not even once did I feel we were lagging behind in any way. Whether it is our sets, our scripts and / or the actors. And I have to admit, I walked off the show with pride.
Theater artists in our part of the world are very dedicated to this art form and their craft is excellent.
Getting back to School Girls, it premiered on November 15 at the O'Reilly Theater in downtown Pittsburgh and is currently in its final week.
Directed by Shariffa Ali, originally from Kenya and based in New York, the story is based in the Aburi Girls' Boarding School, located in the Aburi Mountains in central Ghana (West Africa). Thousands of miles from home, as I watched the show, I found myself in the midst of issues that struck me – patriarchy, racism, body image, and gender disparity – like everything else in the world. fact relevant to Pakistan.
Set in 1986, the 90-minute production featured an all-female cast that included Markia Nicole Smith as Paulina, Aidaa Peerzada as Ericka, Candace Boahene as Mercy, Atiauna Grant as Nana, Shakara Wright as Gifty, Ezioma Asonye as Ama, Shinnerrie. Jackson in Director Francis and Melessie Clark as Eloise.
It revolves around a group of young women including Paulina (Markia), who is a self-proclaimed diva and wants to dominate the rest. She likes to impose her thoughts on other girls, especially Nana (Atiauna) who is chubby and struggles to lose weight. However, there is a twist in the story when a new student, named Erica (Aidaa), joins the class; everyone except Pauline becomes friends with her because she is rich and fairer than the others.
What touched me and touched me was realizing how much young women around the world are criticized for their dark skin tone or being overweight. Additionally, young people around the world face peer pressure in school, which could lead to lifelong impressions and trauma.
Speaking to Instep after their performance, Melessie Clark, who plays former Miss Ghana Eloise in the play, admitted how relevant these questions are and how important it is to bring them to light.
"I think there is always room for improvement in all aspects, not just in theater but also in other career paths," she said, adding, "But Pittsburgh has a such a great community of people and we really tried to explore the experiences, not just the "black experience." We hope it touches other cultures.
Another actor, Markia, who delivered a powerful performance as Paulina, pointed out that bodily shame is something that everyone encounters, consciously or unconsciously.
"It is improving as we start to see different body types represented, but I think we have our way to go," she said. "It's really important that this piece tackles body shame, colorism and a lot of different things that I think anyone, black or white, can relate to."
Surprisingly, one of the cast, named Aidaa Peerzada, was of Pakistani descent. When I appreciated her brilliant performance, she replied "Shukriya" (thank you) and that's when I learned that she is the daughter of Imran Peerzada, who starred in the drama series. recently completed Inkaar.
As we talked about how people are obsessed with fair skin in Pakistan, Aidaa was quick to add that the concept of fairness creams is no different in the United States and that they are there. also easily accessible.
School Girls raised these questions and conveyed the message of acceptance and coexistence in societies. Art connects people across borders and this is where you realize how universal some issues are and impact life, no matter what part of the world you reside in.